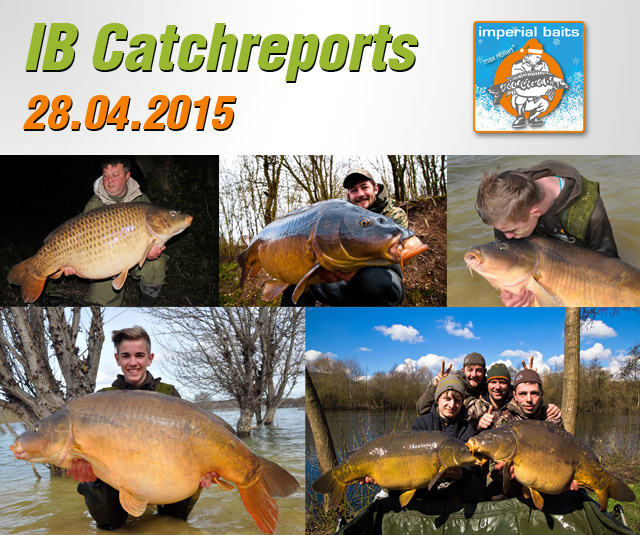 Daniel Trinkl
Daniel was able to realize his dream at the beginning of April 2015. The young Austrian caught a 33 Kilo mirror carp at a 600 Hektar lake in southern France. After a week went by in which a cold wind blew over the water surface without a bite he moved to another swim. In a wind protected cove he placed his trap using Imperial Baits Carptrack "Carp Total" boilies. In flat water he placed the rig between some trees and bushes. At 5 in the morning there was shouts of joy heard throughout the cove.
Easter Weekend
The Imperial Fishing Easter guiding tour 2015 was a big success. 9 carp were caught by Julian Jurkewitz and his guests during the 3 nights. The water temperature was only 8,8c, so the team presented the bright yellow Imperial Baits Carptrack Birdfood Banana boilies which present a strong visual signal to the carp. The boilies were used in combination with the highly water soluble inP which gets even the most inactive of carp to start feeding.
Igor Harcar
Over Easter Igor fished a big lake in France. He caught his Easter carp with 33,5 kilo on an Imperial Baits Carptrack Fish Boilie in 24mm in combination with a 20mm Elite pop up. The take came in the evening at a distance of 300m. For half an hour he fought the strong common before it hit his mat. Personal best to start the Spring!
Julian Jurkewitz
After 12 hours of non stop rain it paused for a short time around 4 in the morning. From a depth of 3m in this rain free moment came the bite! After a good fight Julian Jurkewitz was able to guide this perfect 16kg mirror into his net. His bait was an Imperial Baits Carptrack Birdfood Banana boilie which he had soaked in Amino Dip Banana, an orange 16mm V-pop topped it off.
Visited 1 times, 1 visit(s) today