iBay – iBoats & Team Watch bis Do. 26.04.2018
Ende aller Auktionen: 26.04.2018 zwischen 19:00 und 19:30 Uhr!
Hier geht's zu den Auktionen – klick!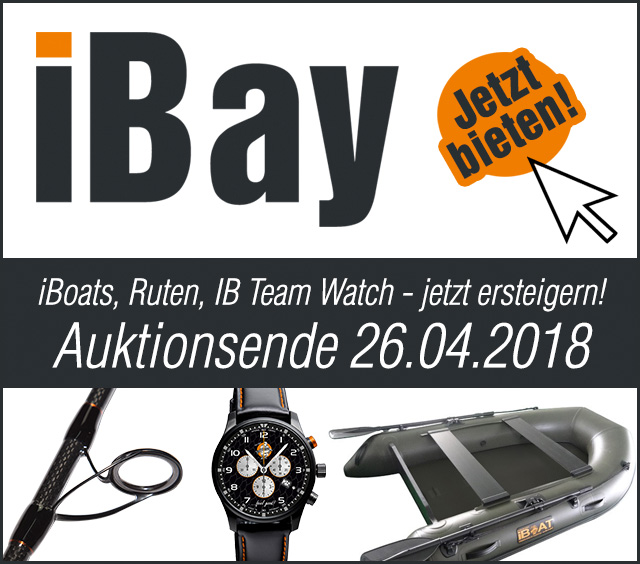 ---
Pay Lake Angeln in Frankreich – von Kevin Hoffmann
Ehrlich gesagt habe ich noch nie in einem Pay Lake See geangelt, ich liebe eher Naturseen oder Weiher aber bevorzuge die Flussangelei, wie sicherlich auch viele von Euch wissen. Ein Angelfreund (Markus) überredete mich 5 Tage mit ihm einen Pay Lake zu besuchen und wir buchten. Ich sammelte viele Informationen von Freunden über diese Angelei. 5-7 Fische sollte man dort pro Tag fangen können hieß es. Es war für mich Neuland. Kein Boot, kein Futterboot und keine geflochtene Schnur sind erlaubt aber Distanzen bis 160 m erreichen. Es war soweit und das Auto wurde gepackt.
Ich entschied mich nach langem hin und her für Crawfish black & white und Scopana.Love. Der Boliemix Scopana.Love wurde mit Maulwurfserde gemischt, darin kamen noch die 4 mm Amino Pellets, Add Fat, Protein Konzentrat, Squid-Liver Mehl, frisch gekochter Hanf und Dosenmais. Dieser Mix war für die Futterrakete vorgesehen.
Als wir angekamen holte ich mir noch weitere Infos des Besitzers ein. 5 kg pro Tag waren erlaubt. Anschließend bauten wir das Camp auf.
So sah es vor Ort aus, wir waren nicht alleine!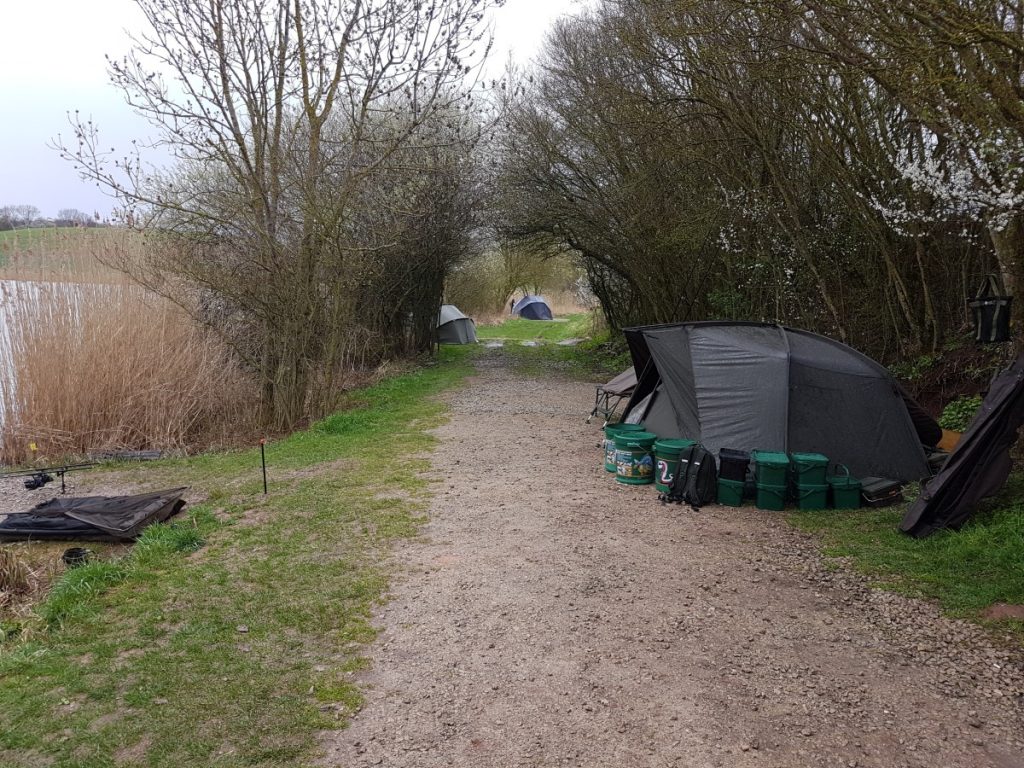 Jetzt wurde eine Stunde lang mit der der Marker Rute Spots gesucht und festgelegt. Ich entschied mich für zwei Futterplätze auf denen ich jeweils zwei Ruten angelte. Der eine Spot befand sich auf 80m und der andere auf 110m.
Die erste Nacht brach herein…
Es hieß Spomben, Spomben und Spomben… meine Arme!!!!
110m ist ein gutes Stück! Direkt am nächsten Morgen konnte ich diesen kleinen Schuppmann landen… Tigernuss mit Liquid-Powder Paste ummantelt!
Wir bekamen dann zwei Tage keinen Biss mehr und auch der Rest am ganzen See fing nichts außer ein paar dicke Schleien. Ein Plan musste her, die Fische waren aktiv aber bissen nicht….
Auf zwei Ruten kamen jetzt Half'n Half zum Einsatz, die ich in kleine Würfel Schnitt und mit Amino Gel pimpte. Die beiden Ruten wurden mit Marker Sticks auf 160 m eingestellt weil ich möglichst weit zur Seemitte wollte. Wer mal wirkliche 160 m geworfen hat weiß um welche Distanz es sich hierbei handelt! Also Ruten raus, Wathose an und wirklich nur fünf Boilies dazu Sticken.
So konnte ich am Abend direkt 2 schöne Fische landen. Yes der Plan ging auf. Beide Ruten fingen ihren Fisch. Am letzten Abend flogen alle vier Ruten raus soweit es nur ging… für mich hieß es alles oder nichts.
Gegen 22 Uhr ertönte mein Bissanzeiger…
Rute aufgenommen und ich merkte sofort, dass es sich hierbei um einen größeren See Bewohner handelte. Nach ca. 30 Minuten hartem Kampf, war es endlich soweit yeeaahhh 20 + 🙂
Natürlich sprach sich dies sofort am ganzen See rum, sodass ich morgens nicht mal richtig meinen Kaffee genießen konnte! …die Sprache war ein Mix aus Deutsch, Englisch und Französisch! Der Chef des Sees war auch dabei und erzählte uns das in den letzten drei Wochen nur 16 Karpfen gefangen wurden und wir davon 7 hatten. Ich war also super glücklich mit unserem Ergebnis! Meine Nachbarn waren zwei Franzosen die sehr nett waren, sie blieben noch drei Tage länger als wir.
An unserem Abreisetag gab ich ihnen jeweils 1 kg Crawfish black & white und Scopana.Love Boilies + die passenden Half'n Halfs und wollte dafür bloß eine kurze Feedback Nachricht, was sie damit noch fangen konnten. Die beiden fingen so noch zwei Fische! Es war für mich ein tolles Erlebnis mit zwar wenig Fisch aber mein Ziel mit 20 Kilo + war erreicht 🙂
Das ist Pay Lake Angeln!
Tight Lines Euer Milow und Kevin 
Grüße, Kevin Hoffmann
Kevin Hoffmann mit Freundin im iBoat 160 – crazy shot!
---
Realtree iBoats jetzt auch mit 0,9mm Dezitex Material!
Mit der neuen Produktion und Lieferung, war es nun endlich möglich auch das Realtree Material in der begehrten Stärke von 0,9mm herzustellen.
Damit müssen wir kein Extra-Gewicht mehr schleppen und genießen den Vorzug von Leichtigkeit und Stärke im besten Verhältnis.
Dennoch ist zu erwähne dass Realtree iBoats stets nur in kleinen Mengen bevorratet werden, da es im Vergleich zum schönen Grün, welches sich fast immer gut in die Umgebung einpasst, selten gefragt ist.
Vorbestellungen mit entsprechender Wartezeit sind jedoch immer möglich!
Aktuell vergriffen: iBoat 16 & 210 in realtree – Lieferung ab zirka Juni.
---
News from the IBCC – International Balaton Carp Cup
Imperial Baits Team CZ is on place 6 from more than 200 teams at the moment with a total carp weight of 415.55 kg and the biggest fish with 18.15 kg. They had their success with iB Carptrack Monster-Liver and Elite Strawberry Boilies!
Result table: https://ibcc.hu/results_2018/