iBay – iBoats & Team Watch bis Do. 26.04.2018
Ende aller Auktionen: 26.04.2018 zwischen 19:00 und 19:30 Uhr!
Hier geht's zu den Auktionen – klick!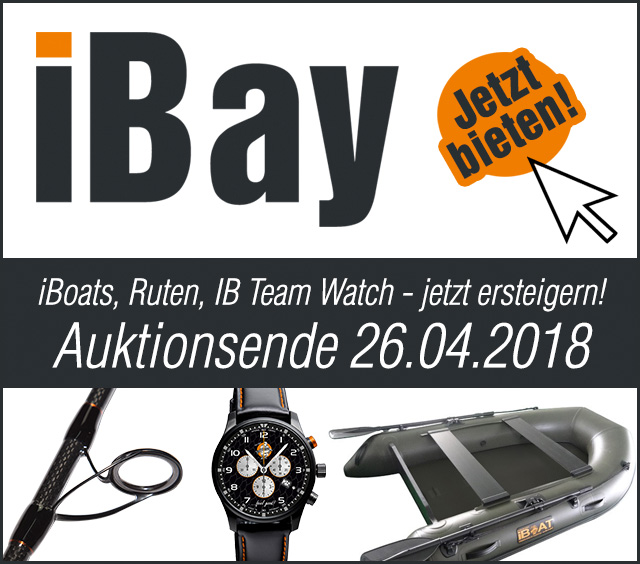 ---
Endlich geht's los – von Kurt Trinkl
Ich wartete nur darauf, dass der Natursee den ich im Frühjahr immer befische, endlich auftaut und ich loslegen konnte.
Nun war es endlich soweit, der See war frei, doch der Winter hinterließ noch seine letzten Spuren. Doch egal, so lange hat es noch nie gedauert und ich musste jetzt endlich raus!
Welchen Boilie sollte ich angeln!?
Im Winter habe ich mit meinem Sohn selbstgerollte Boilies produziert, überwiegend 2 Sorten: Monsters Paradise und Sopana.Love. Meine Entscheidung fiel jedoch auf die Sopana.Love Boilies, da ich bisher noch nicht dazu kam, diese ausgiebig zu testen.
Die selbstgerollten Boilies wurden natürlich kurz vor ihrem Einsatz mit dem Carptrack Amino Complex Liquid gepimpt, damit meine Köder im Frühling so viele Duftstoffe und Attraktivität wie möglich freigeben konnten.
Das ist bei kaltem Wasser essentiell!
Natürlich darf eines nicht fehlen wenn von Attraktivität gesprochen wird. Die Rede ist von den Carptrack Amino Gelen. Passend zu meinen selbstgerollten Sopana.Love Boilies, verwendete ich hierbei das Carptrack Amino Gel Scopana.Love. Zum einen haben diese Gele eine tolle Lockwirkung aber auch einen sehr auffälligen optischen Reiz.
vorher…
… kurz nach dem Auswurf, bevor er aktiv wird!

Als richtig robusten und zuverlässigen Haken empfehle ich den Carp'R'Us Continental Snag Hook, den ich sehr gerne bei weiter Entfernung einsetze.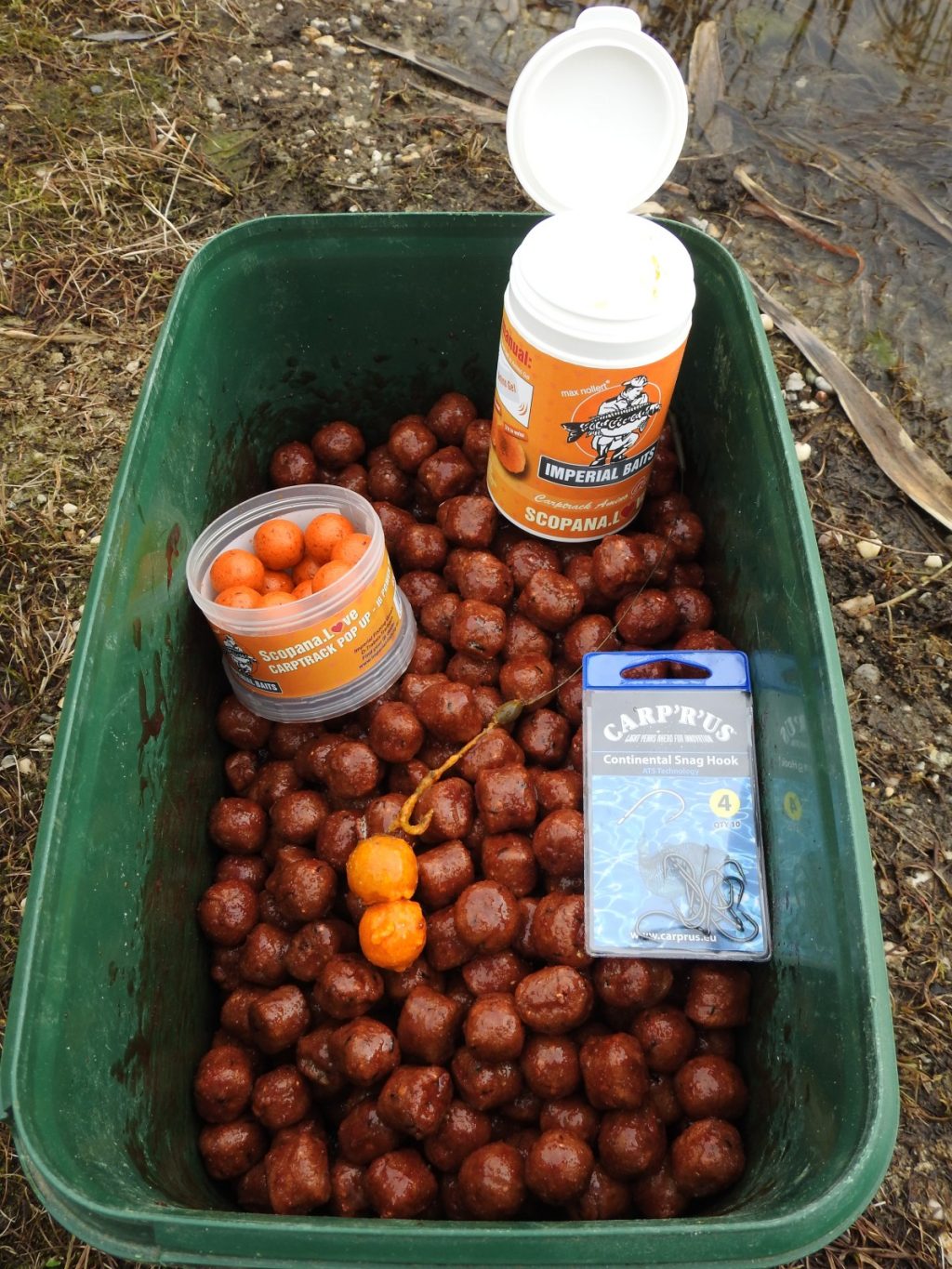 Passend  dazu natürlich die richtige Schlagschnur. Welche andere könnte hier in Frage kommen als die Shock'it – Super Shockleader Mono.
…in der 0,50mm Version!
Wie auf dem Fotos zu sehen angle ich auf weiter Entfernung und bei viel Schilf und Hindernissen mit der Visible Touch – Snaggy Water (geflochtene Hauptschnur).
Los geht's!
Auch das Amiaud Combi Carpo Rod Pod steht immer bombenfest.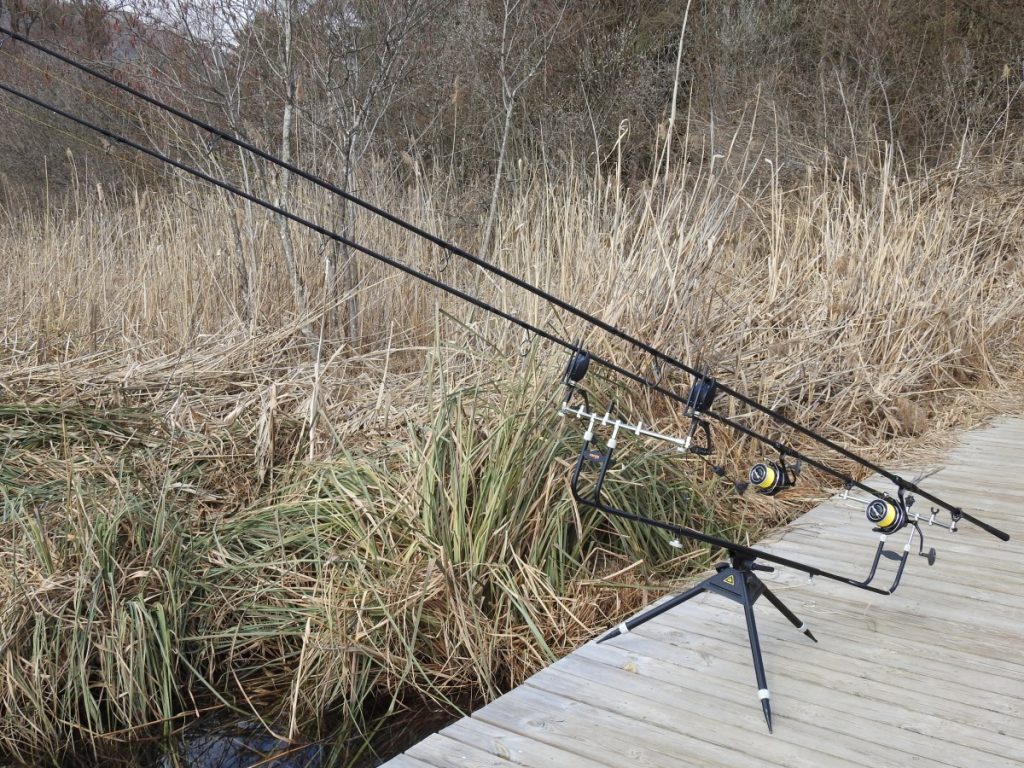 Nun aber genug zu meiner Ausrüstung. Die Ruten waren scharf und es dauerte gar nicht lange, bis ich meinen ersten Fisch landen konnte. Der erste Karpfen im Jahr ist immer etwas Besonderes… und dann noch so ein Dicker!
Was für ein Fisch!
Den restlichen Tag über und in der Nacht rührte sich gar nichts mehr. Nur die Frösche und Enten neben mir machten höllischen Krach.
Erst am nächsten Morgen, kurz bevor ich aufbrechen wollte, konnte ich noch einen Karpfen fangen…  Sopana.Love Boilies machten erneut das Rennen!
Der Winter… er wollte 2018 einfach nicht gehen…

Kurt Trinkl
Team Imperial Fishing Österreich
---
…when strong batteries are more light than the electric motors!
Ein durchdachtes, wasserdichtes System für 12V / 50 AH Rebelcell Akkus inkl. USB und Zigarettenanzünder-Ausgang
---
IBCC NEWS:
15th place for IB CZ from 196 teams after 24hrs.
View all results: https://ibcc.hu/results_2018/
The Tournament is still running and we wish good luck!!!
---
Heute schon gepoppt?
Visited 1 times, 1 visit(s) today