Ab sofort und nur für kurze Zeit
bei Bestellungen ab 50 Euro:
"versilberter" Deko-Fisch aus Porzellan
gratis on TOP!
---
Zsolt Bundik knackt die 1. Mio YouTube Aufrufe!
Es kommt nicht häufig vor, dass ein Karpfen-Video bei YouTube so viele Views bekommt. Doch Zsolt Bundik's "Extreme Carp Fishing Lac du Salagou" schoss regelrecht durch die Decke! Wir gratulieren und hoffen es kommen in Zukunft noch viele atemberaubende Videos von BIG Zsolt!
---
iBay – iBoats, Ruten & IB Team Watch bis Di. 29.05.2018 – Deine Chance!!
Ende aller Auktionen: 29.05.2018 zwischen 19:00 und 19:30 Uhr!
Hier geht's zu den Auktionen – klick!
---
Behind the Scenes picture…
KLICK HERE and start EPIC Trailer Video from Balaton now – click!
Mit David Fort, Marco Bertaglia!

---
North-France with Team iB Italy
In the beginning of May we had a difficult but at the end successful trip to a big reservoir lake in north france. We want to tell you more about our adventure…
The choice of bait
My choice is often to use two types of boilies and also tigernuts in addition. This time we decide to bring with us an Imperial Baits ready made, in particular the Crawfish black & white in diameter 20 and 24. For the second type of boilies I make self-made products always with Imperial Baits Mixes: the Carptrack BIG Fish mix with 15ml of Liquid Amino, 4ml Black Pepper and 6ml BIG Fish Flavour.
Not knowing exactly about the water temperature and how active the fish are eating and moving, we decided to produce three different diameters: 16-20 and 24mm and after an accurate drying time we arranged to put them into vacuum for a better conservation.
For the particles we decided to use only Tigernuts prepared in a particular way: put 15 liters of water plus 65ml of iB Carptrack NHDC in a 30l iBox with 12,5kg of Tigers (no more because they are doubling the volume in the water) and after about ten days in the water we cooked them 20 minutes.
The Rigs
The rigs were two different styles, based on the hookbait we used. The materials for making our rigs are from Carp'R'Us. For the hooklink we used the 50lb Clearwater fluorocarbon and bond a D-Rig with a zie 4 or 6 Centurion 2000 hook and a 3mm rig ring.
This type of rig gives more security when small fish are playing with the hookbait and the risc of tangling isn't very high. For balanced baits like pop ups and snowmen I often use a combi rig with the 50lb fluorocarbon and 45lb smooth braid, size 4 or 6 Centurion 2000 hook, Mouthsnagger Shorty and Shrink Tube on the hook curve.
The images of the catches speak for themselves!
We moved a lot to find the carp and finally the work paied off! I left the lake to return to Italy tired but very very happy and satisfied with everything!
26 Kilo, the biggest carp form the trip!
The long one!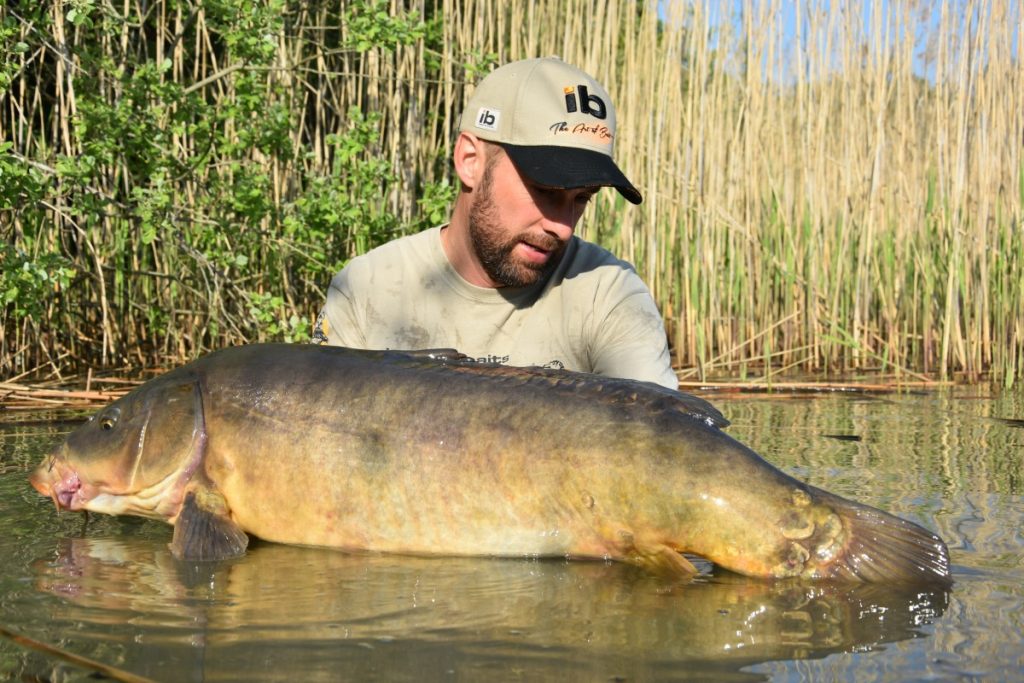 An old fighter!
Common time in the forest!
We love to fish! 
The beauty at the end!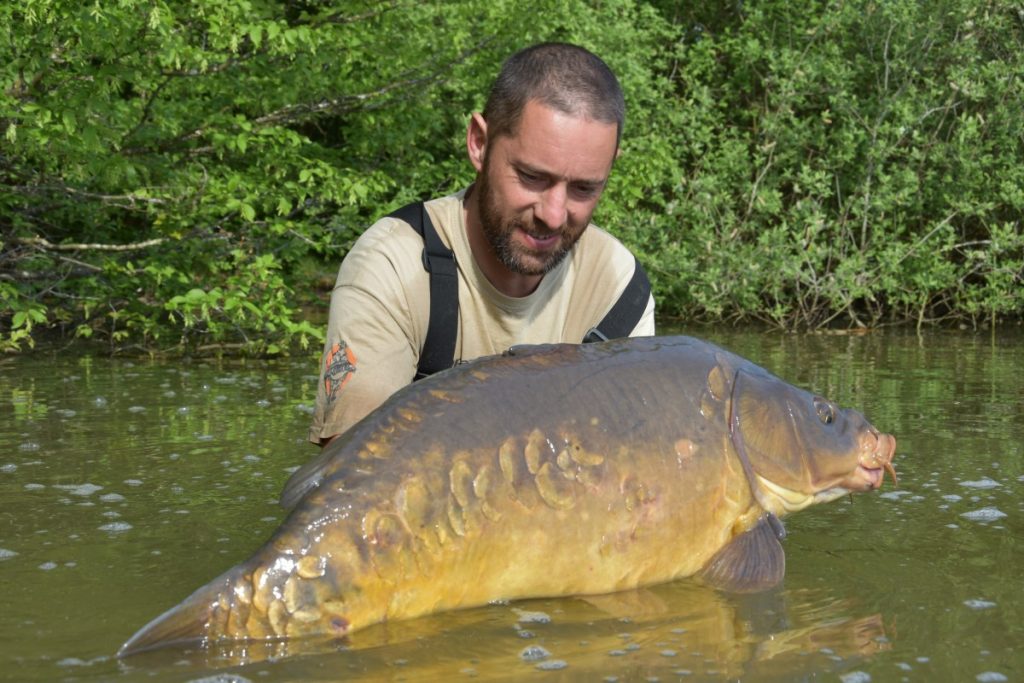 Peracchi Alessandro
Team Imperial Baits Italy
Kommentar Max Nollert: Great to come two times to the like and win the battle with awesome captures. Very nice to see!! This is good carping! Best wishes, max
---
Rene Sandra zu Besuch an der Mosel…
Zwei fantastische und unvergessliche Wochen liegen hinter uns 🙂
Mit einem Tränchen in den Augen und der Sonne im Herzen geht es wieder heimwärts.
Vielen Dank Max & Alexa für die tolle Zeit die wir zusammen verbringen konnten!
Fangen konnten wir leider nichts an der deutschen Mosel, aber dran waren sie:-)
…nächstes Mal dann!!!
Wir kommen wieder!

…und Max beim Angeln über die Schulter geschaut 🙂im wahrsten Sinne des Wortes 🙂wir waren stets in Stellung!und guter Dinge 🙂…und als René und Sandra schon abgereist waren, ging es im gleichen Rythmus weiter – bloß bleibt die Frage: nix oder wieder nix 😉

Besser wieder nix als wieder nix!



Das macht wirklich Spaß, weit und breit keine anderen Angler, außer unsere lieben Gäste Rene u. Sandra Pannenbecker und man ist allein am weiten Fluss und der Jagd nach dem einen Karpfen.
Und ein kleiner Reim muss sein: 
Kann er doch so weit entfernt sein oder vor der Nase, 
in diesen Tagen sahen wir noch nicht Mals eine Blase. 
Doch nein das stimmt nicht ganz, 
denn es sprang zum Schluss doch noch ein dicker Wanz. 
Abgegangen sind sie uns und das gleich zu Zweit,
dann hörte man wie einer Schreit…
Dieses Mal nicht gefangen dürfen wir beim nächsten mal wieder bangen. 
To Be continue….
Die Hoffnung stirbt zuletzt und René als Ex Champions im Feederangeln und Stippen hat auch in diesen Tagen wieder gezeigt, aus welchem Holz er geschnitten ist. By by und bis zum nächsten Mal

Good carping und allen ein schönes WE, max nollert
Hier noch ein kurzes Video nach dem Blank;-)!
Matteo & Friends am Orelana in Spanien wünschen uns ebenfalls ALLES GUTE!
8 Tage im slowenischen Land
von Jakob Giovanini
Eine Sitzung, die ich für den Rest meines Lebens nicht vergessen werde!
Ich beschloss mich in einen tiefen Bereich des Sees zu setzen und BINGO, es war die richtige Entscheidung.
Ich verwendete iB Carptrack BIG Fish Boilies aus dem Hause Imperial Baits.
Als Boot hatte ich bloß das iBoat 160 dabei – mit dickem Motor! 🙂
Ich würde sagen das Amino Gel BIG Fish war von entscheidender Bedeutung… das Gel hilft viel, wenn das Wasser noch sehr kalt ist und die Fische sich nicht viel bewegen. Es animiert zum Anbiss!
Imperial Baits Produkte bringen den Unterschied!
Ein Gruß an alle!
Jakob Giovanini
Max Nollert: "Super captures Jakob. Great style of fish and photo. Go on like this. Looking forward to here from you soon. All the best, max"
---
Nur noch bis zum 30.05.2018:


"IB Rodart" Ruten-Umfrage mit 500 € Gewinn!
Lieber Karpfenangler, wohin geht der Trend wenn`s um`s Handteil geht?
Duplon, Kork, dick, dünn, geteilt, durchgehend? Was ist Dein Geschmack?
Mit der Teilnahme an dieser Umfrage, trägst Du dazu bei, die IB Rodart Karpfenruten noch spezifischer auf Deine Wünsche anzupassen.
Viel Erfolg bei der Losung von zwei Temptation MK3 Ruten im Wert von 500 €
max nollert
Schon über 700 haben mitgemacht, wann bist Du dabei Deine vier Haken zu setzen?
Jetzt an der Umfrage teilnehmen und gewinnen!
---
Last but not least…
Mit diesem Detailfoto wünschen wir Euch ein schönes und fangreiches Wochenende! Auf das die Matten und Kescher nass werden! Los geht's!
Visited 1 times, 1 visit(s) today