We visit the Lago di Bolsena in the third week of september to give us a first overview about this giant lake.
In the beginning of our session we had strong wind and big waves in our faces. Good conditions to catch some really nice Bolsena muscle carp. Our fishing tactic was exactly that what we do on other big lakes – for example in france. It works also on Bolsena and we caught carp up to 22 kg. All of them have been strong common carp -for sure;)!
Although the weather was getting better and better (more sun, less wind) we caught beautiful and continuously fish with our tactic. But also at Bolsena it was visible that wind is a very important factor to have success at lakes like this. Nevertheless during the WCC event our fishing tactic will be really different from that what we normally do to get the big one out. We hope our strategy will work as estimated and that some carp will cross our rigs.
What exactly we will do But is one thing which we still want to keep secret, however after the WCC it will be a pleasure to talk about. It is our very first time to participate at any competition in carp fishing!
Hope to see you in one week at the banks of the fantastic Lago di Bolsena!
With the iBoat 320 we are not to afraid to go out in a big lake even with biggest waves.
The boat was excellent on the water and drove a great track through.

The rods were out and the first day came to the end

In the first night it seems there were no fish in our area. During the day, the weather get a little bit better and we decided to have a dive to vent the secrets of the lake Bolsena.

Except Black Bass we don't see any fish underwater and our rigs were well on place. Only one hour after the diving trip the wind starts to blow up very strong and a few minutes later we had a first take on Imperial Baits Carptrack Fish Boilies.

iBoat 320 – the wavebreaker!

It was a 18 kg common carp and a great fighter! I will never forget this drill!

Only one hour later we had the second run. Max went out in the strong sea to get the big one out!

YES – 22 kg common, what a big Bolsena fish.

The wind brings the carp in our sector

BIG EYE, he found the rig into the 30cm weed in 4m depth

Some components for our rigs. We trust in Carp'R'Us Stuff!

One day later, Julian lost 2 carp because of a line break. He was angry as it seems that the lead has been to far in the mud and stuck to it… Than Max get the next fish out in the middle of the day. 16,5 kg – Bolsena gold!

Sundown at the Italian Ocean!

"FISH ON FISH ON!"
At 00:00 o'clock an old 18,5 kg Bolsena carp hooked on!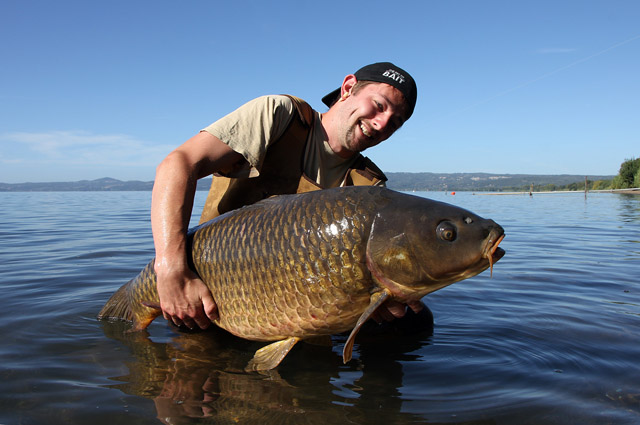 The famous Carptrack Liquid & Powder wonder paste. If the carp feel it, they never swim away without sucking the Bait – that's our impression!

One of only two smaller carp which we caught during the trip.

Max with a new wacker! 19,2 kg – fantastic!

Long and full of muscles – like the very most Bolsena carp…

They have all great mouthes and most of them have never been hooked before!

Carp'R'Us Rigs – our favourite endtackle since 2012!

The famous city Bolsena during the night

The last fish with 18 kg on IB Carptrack Elite Strawberry Boilies – wild and untamed!
Get him free to his element!

At 2 o'clock in the night the fullmoon did send his brightest light. We come back and looking forward to the WCC participation


Cheers
Max & Julian
Visited 1 times, 1 visit(s) today