Volle Action bei IB – Dank EUCH!
Vielen, vielen Dank für Eure tollen Bestellungen über das WE! Seit Freitag gibt's bei IB alles Versandkostenfrei und extra Goodies on Top!
Jetzt heißt es packen, packen, packen…
Und wie Jukke immer gerne sagt: "Drei Packen minus zwei Packen = ?, richtig 
😉 Das Ganze gilt noch bis morgen früh Dienstag 05.06.2018, 8:00 Uhr – also noch bissl Zeit, falls Du noch was brauchst!!!Übrigens: wir haben das Telefon in diesen Tagen auf 14-17 Uhr gestellt, da wir nun zusehen müssen, dass alles wie gewohnt schnell an Euch raus geht. Jetzt schon mal sorry, falls es mal zwei Tage statt einen Tag dauern sollte. Wir sind dran und auch ich werde nun wieder ins Lager gehen und weiter kleben, füllen, packen…. Viele Grüße vom Team und gute Besserung an unsere Sonja aus Lager und Produktion, die sich eine Lendenwirbelfraktur zu Hause zugezogen hat! Es heilt nun seit drei Wochen konservativ, wir drücken die Daumen, das wird wieder Sonja!
Viele Grüße und allen einen guten Start in die neue Woche, max
---
Es ist am kommenden WE wieder soweit!
Imperial Fishing und das Motorbootrennen in der Heimatstadt. in Traben-Trarbach.
Freunde und Bekannte, Staunen und Genießen – wie freuen uns drauf!
Und so war es als wir deutscher Vizemeister waren…
---
Great Guys in the big Lake – the movie is coming!!!
You can watch the premiere of the first part of Carp Time – Balaton 10 TOMORROW on Tuesday, June 5, 2018, from 19:30 to O2 TV Sport. David Fořt and Marco Bertaglia (IT). The British pair Ian Hirst and Lewis Jackson Read will give up the 10 most difficult catches in the race!
How is it going to happen?
After the TV premiere, of course you can also enjoy the youtube version, which will contain many bonuses.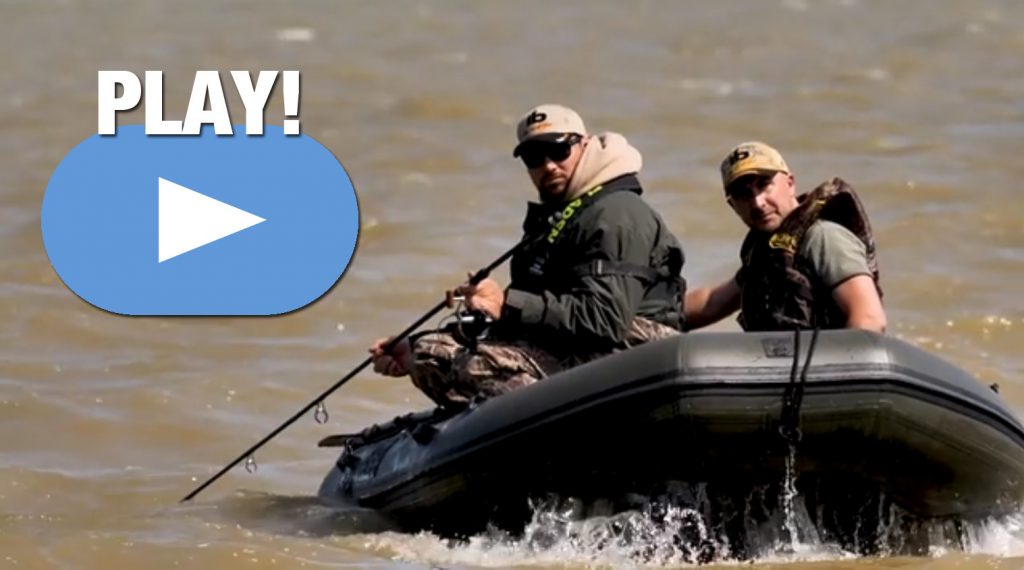 ---
Monster Carp caught on Imperial Baits Boilies!
---
Meine Donau-Flussangelei im Frühjahr
– von Daniel Trocha
Hallo liebe iBlogler,
Anfang April ging es endlich wieder los. Eine Woche, bzw. 5 Tage Flussangeln an meinem Heimatfluss der Donau. Eigentlich war ein Auslandstrip geplant, doch die immer  weiter steigenden Temperaturen hielten mich davon ab in die Ferne zu fahren. Zwei Tage vor Beginn der Session am Fluss, fütterte ich ca. 2 – 3 Kilo Boilies und Pellets. Dazu kamen noch Partikel wie Mais, Tigernüsse und Hanf. Sonntagnachmittag ging es endlich los, ich packte mein Auto und schnürte das Boot aufs Dach, schon konnte das Abenteuer beginnen. Nach wenigen Minuten war ich da und leerte mein Auto in Windeseile und fuhr mit dem Boot zur gefütterten Stelle.
Kleines Tackle, schnell gings los
Mein Tackle hielt ich relativ schmal, sodass alles vor Ort und Stelle schnell aufgebaut werden konnte. Das Wetter war gigantisch ca. 25 Grad Celsius, na das konnte ja ein heißer Tanz werden 😊. Meine Ruten bestückte ich anfangs mit Pellets. Lang lag die Rute nicht und ich konnte schon nach 10 Minuten den ersten TWO TONE Schuppi über den Kescher ziehen.
"Das ging ja flott los'"
Überraschender Wecker am Tag!
Ich war sehr optimistisch, als die erste Nacht hereinbrach, doch bis zum nächsten Morgen tat sich leider nichts mehr. Vormittags stärkte ich mich mit einem guten Frühstück und Kaffee, dabei beobachte ich die ganze Zeit den Fluss, ob sich irgendwelche Fischaktivitäten zeigten, leider tat sich nichts. Nachmittags legte ich ein kurzes Nickerchen ein, doch plötzlich schrie mein Bissanzeiger. Ich eilte sofort zur Rute und hatte einen kampfstarken Gegner am Ende der Schnur. Man war das ein geiler Drill. Hoffentlich hängt der gut – und er hing verdammt gut!
YES DONAU DICKFISCH gefangen auf einen Snowmen bestehend aus einem 16mm BIG FISH BOILIE + 10 mm Pinker V – Pop.
Spot CheckDer Tag verlief im weiteren verlauf relativ ruhig, am Abend konnte ich noch eine Barbe fangen. Am Dienstag war es komplett ruhig und es kamen erste Zweifel auf. Ich angelte direkt am Anfang eines großen Altarms und ging mal ein paar Meter ins Altwasser rein, suchte nach interessanten Uferstellen. 50 Meter von meinem eigentlichen Platz fand ich einen großen hineinragenden Baum im Wasser und konnte tatsächlich einen Fisch finden. Eine Hand voll Big Fish Boilies sollte reichen um seine geschätzte Aufmerksamkeit zu bekommen.
Und sie sind weg – weg!
Am nächsten Tag um 8 :00 Uhr morgens ging ich nochmals zu der Stelle und sah definitiv Fressspuren am Ufer und alle Boilies waren weg! Ich entschied mich eine Rute von der Strömung zu nehmen und setzte sie mit einem Big Fish Boilie + Orangen V-Pop 16mm ins Hindernis. Nach bereits 15 Minuten ertönte mein Bissanzeiger und erneut hatte ich einen Donau Big Oneam Ende der Schnur. Nach nervenaufreibendem Drill konnte ich es kaum glauben was da in meinem Kescher war.
Meeeeeeeeeeeeeegaaaaaaaaaa Heeeeeeftig. YEAAH was für eine Spieglergranate. – ich war auf Wolke sieben! Spiegler PB im Fluss, YESSS !!!!!!
Was für eine Wampe 😛
Unbeschreiblich!!!!!
Die Rute kam sofort wieder ins Hindernis und ich konnte nach wenigen Stunden den nächsten Prachtkerl fangen. Der Spot Check hat sich ja mal gelohnt! Ein traumhaft beschuppter Spiegelkarpfen, WAHNSINN !!!!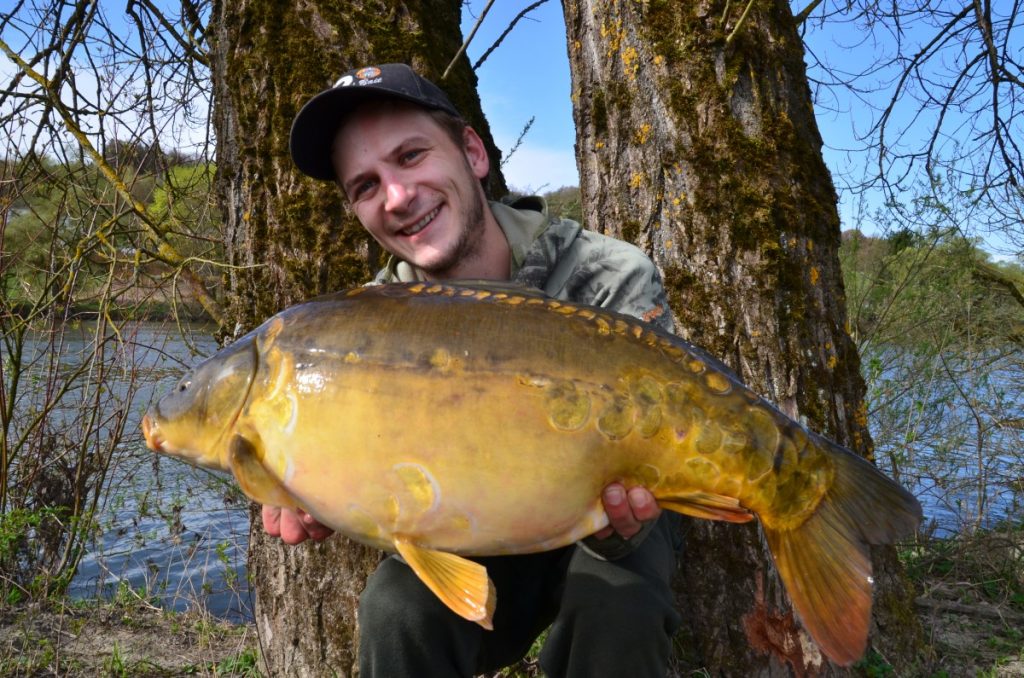 Vorderseite wie Rückseite ein Unikat dieser Fisch
Donnerstag war ich nochmals so richtig motiviert und fütterte ein paar Kilos gepimpte Boilies und Pellets.
Big Fish Boilies, Monster-Liver und Crawfish gepimpt mit unseren killer Additiven aus der GIVE ME 4 Box.
Spät Nachmittags ertönte mein Bissanzeiger wieder und konnte den nächsten Dickfisch fangen 😉
Man war ich geflasht… 😛
Geiler Schuppi mit ordentlich Gewicht .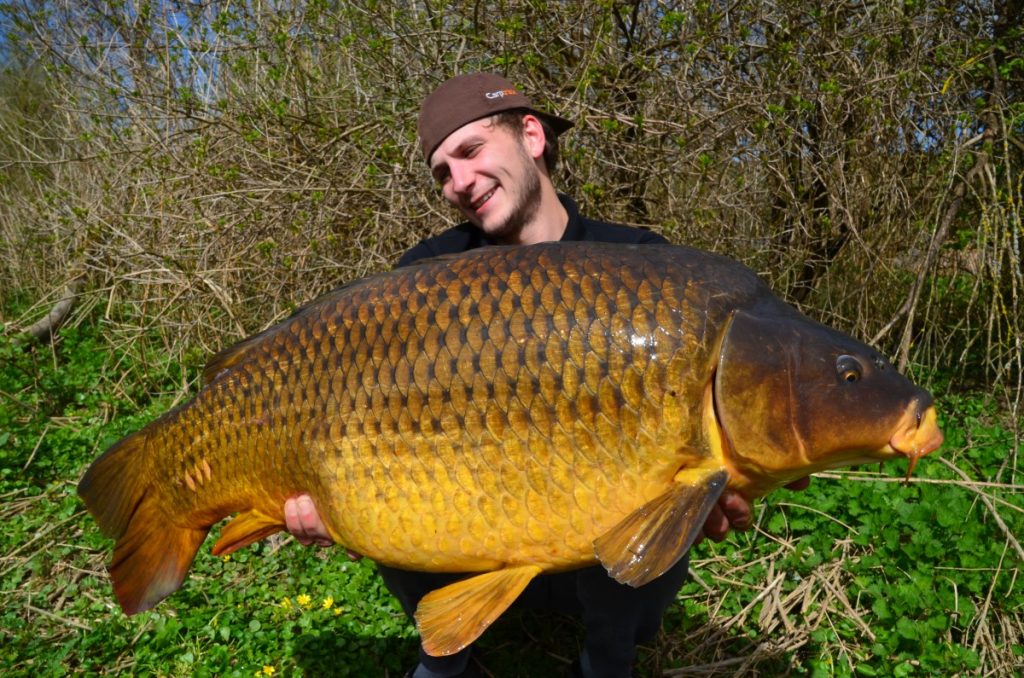 Die letzte Nacht brachte keinen Fisch mehr, doch der Vormittag hatte es noch mal in sich. Gleich zwei mal lief die Rute ab und ich konnte die 5 Tages Session perfekt abschließen und die Heimreise antreten.
Schöner Schuppi, gebissen auf Crawfish Bolies Black & White
Ich wünsche euch maximale Fänge am Wasser.
Tight Lines und bis bald!
Euer Trocha Daniel
Team Imperial Fishing