Bevor es mit Kevin's BIG ONE Story und weiteren MONSTER-KARPFEN losgeht, möchten wir ein großes
DANKESCHÖN
loswerden. DANKE für Eure zahlreichen Bestellungen und das damit verbundene Vertrauen in unsere Bait & Tackle Produkte. Wir wünschen Euch in den nächsten Tagen, Wochen und Monaten viele erfolgreiche und schöne Stunden am Wasser!!!
max nollert & Team

---
The "River Beauty" and the "Big One"
– von Kevin Hoffmann
Es ist Mai, die Lufttemperaturen steigen und somit natürlich auch die Wassertemperaturen. Für mich also die perfekte Zeit meinen "Karpfenfreunden" im Fluss nachzustellen. Zu dieser Jahreszeit ist es enorm wichtig, die Wassertemperaturen stets im Auge zu behalten, weil die Karpfen kurz vor ihrem Laichgeschäft stehen und sich hierfür nun ruhige passende Orte suchen (z.B Biotop- und Altarmausläufe, Häfen oder auch ruhige Plätze mit viel Pflanzenbewuchs). Genau diese Stellen versuche ich nun (bei einer Wassertemperatur ab 15 C°) aufzuspüren. An jeder dieser Ecken zeigen sich bereits Brassen oder andere Weißfische die kurz vor dem Ablaichen stehen, somit ist hier in kürze auch mit den Karpfen zu rechnen 🙂
Mein Hund Milow ist immer mit auf Entdeckungstour!
Der perfekte Spot
Nachdem ich den für mich perfekten Platz lokalisiert hatte, begann ich 10 Tage vor meiner geplanten "Angel Session" mit dem Anfüttern – täglich 500 Gramm Elite Strawberry (um die Karpfen richtig an die Boilies zu gewöhnen und ihr Vertrauen zu gewinnen).
Nun konnte es losgehen…
die erste Nacht am Wasser war vergangen und ich wollte gerade gemütlich mit meinem Hund Milow frühstücken… da passierte es schon – der erste Run!!! Ich nahm die Rute auf und sprang direkt auf mein iBoat 160.
Nach einem kurzen Drill, mit der Invisible Touch Snaggy Water 0.30 mm und der Schlagschnur Shock It 0.70 mm …
… ohne die an dieser schwierigen Stelle durch das viele Unterwasserholz sonst nichts gehen würde, kam diese Flussschönheit zum Vorschein.
Einfach nur der Hammer!! 🙂
Eine Seite schöner als die andere. Besser könnte eine Session doch nicht beginnen! Dank Elite Strawberry und dem Hakenköder RAMBO Elite Strawberry in 20 mm 😉
Jetzt fehlte mir zu meinem Glück nur noch ein richtig Dicker, welcher in der Tat nicht lange auf sich warten lies. Der Bissanzeiger heulte auf und die Rute lief ab…
Was kam als nächstes???
Voller Elan sprang ich wieder auf mein Lieblingsboot, das iBoat 160 und fuhr dem Fisch entgegen. Schnell merkte ich, dass sich der Fisch in einem dicken Baum verfangen hatte. Um ihn nicht zu verlieren, sprang ich ohne zu zögern vom Boot ins Wasser, tauchte ab und befreite den Fisch – ein kräftezehrender Drill im Schwimmen begann… wobei mir jedoch mein iBoat stützend zur Seite stand. Als ich schließlich den Fisch nach einer gefühlten Ewigkeit kescherte und wir sicher an Board waren, blieb mir fast der Atem stehen – was für ein dicker Prachtkerl dachte ich mir nur 🙂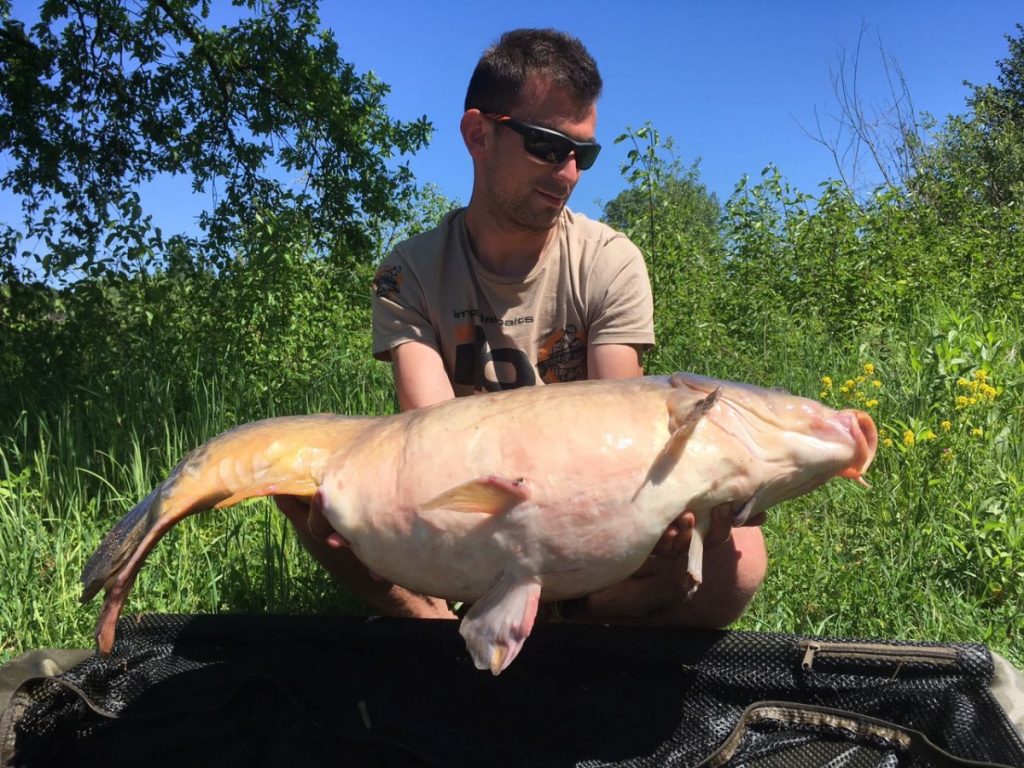 Ohne Worte…
Wenn man mal bedenkt, was für Kräfte bei solchen "Aktionen" vor allem auf die Schnüre einwirken, dann braucht man wirklich qualitativ hochwertiges Material. An dieser Stelle ein dickes Dankeschön und Lob an den Entwickler dieser Schnüre (Invisible Touch Snaggy Water 0.30 mm und der Schlagschnur Shock It 0.70 mm)!!!
Einfach TOP Material, auf das ich mich verlassen kann!!!
Fazit der vergangen Tage
Es war für mich eine perfekte Session mit 2 Karpfen und sogar einem richtigen Beauty. Voller Motivation und Vorfreude blicke ich schon auf mein nächstes Abenteuer an den Ufern der Flüsse.
PS: wenn es irgendwelche Fragen zum Thema Flussangeln gibt, scheut Euch nicht und fragt (es gibt keine dummen Fragen) 🙂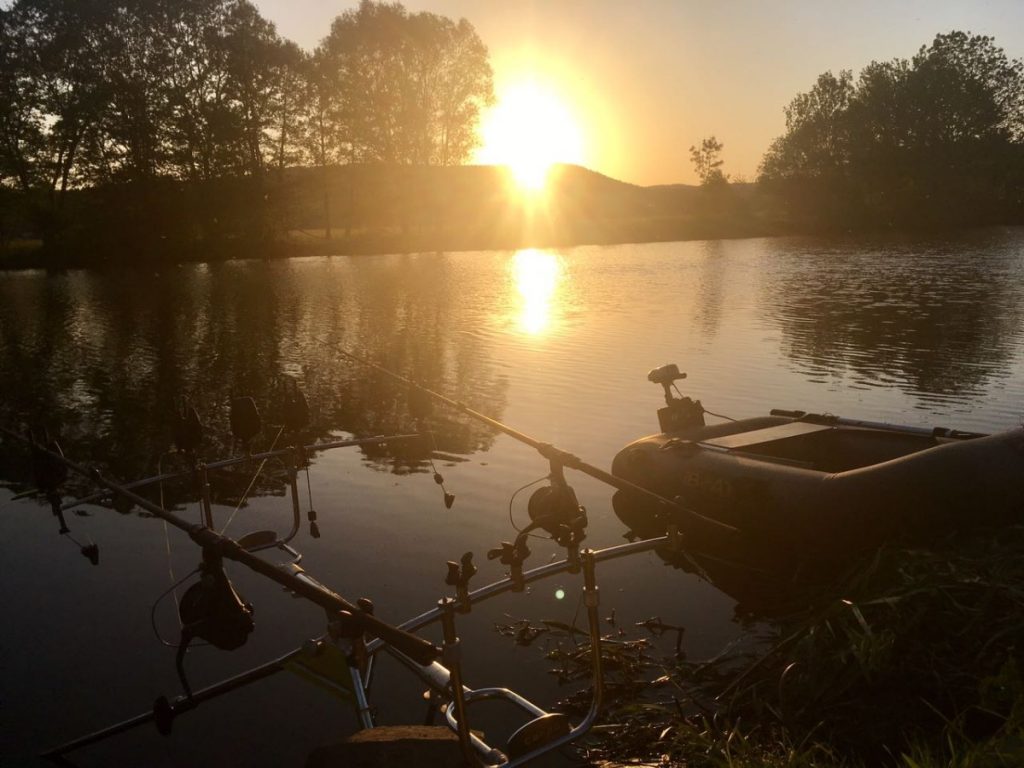 Bis dahin… macht's gut… Tight Lines
Kevin und Milow
---
Matteo Paini with words for us from the big Orellana lake in Extremadura (Spain)!
---
Juan Sosa from the iB Team Spain
The first temperature rises arrived and with them my desire to go fishing.
To start my fishing strategy I used a snowman rig of 16 + 10 mm Bottom Boilie / Pop Up and immediately I got several bites but only many little carp. So I decided to use a 24 + 20 snowman rig.
At 10 o'clock I got  a strong run. I could directly tell my friend: "that is a big fish!"
After a nice fight I caught my new record in Spain! WUHU!
WE LOVE TO FISH – iB Carptrack Scopana.Love Boilies did the job!!!
Congratulation Juan – lovely fish and pic!!!!
max nollert & Team
---
Wahnsinn!
Zsolt Bundik mit einem neuen riesen Karpfen aus einer großen Kiesgrube in Ungarn – Glückwunsch Zsolt Bundik!
iB Carptrack Boilies …and the Big Ones are yours! 🙂
---
Imperial Fishing Katalog 2018 …way back home!
Digitale Version  – jetzt PDF Datei online ansehen!
Mit zu den schönsten Momenten bei unserem Hobby gehört es, nach einem erfolgreichen und möglicherweise auch sehr anstrengendem Trip mit Höhe und Tiefen, all dies auf dem Nachhauseweg noch mal im Kopf Revue passieren zu lassen und mit diesem wohl erhabenen Gefühl, am Ende alles richtig gemacht zu haben, den Lieben zu Hause wieder freudig entgegen zu treten!
Das Motto "…way back home!" schmückt den neuen Katalog 2018 und soll jedem Leser, Kunden und Fan möglichst viele solche Moment bescheren.
Der neue Imperial Fishing Katalog 2018 beinhaltet das aktuelle Sortiment, mit allen Neuerungen bis April 2018. Mit prachtvollen großen Bildern direkt vom Wasser, vermittelt er ein ganz besonderes Feeling an seine Leser und noch viel wichtiger: wertvolles Wissen zwischen den Zeilen! Neben den großen Erweiterungen wie der Scopana.Love Baitrange, dem Combi Carpo G2 oder dem iBoat 500, nimmt Euch Max Nollet in einem 6-seitigen Artikel mit auf sein letztes Bootsabenteuer an die französischen Rhone.
Wir wünschen eine erfolgreiche Angelsaison mit Imperial Fishing / Imperial Baits
Good carping! max nollert & Team