Hello friends,
with this update I want to show you something about my Springbreak time 2013. From february until the end of may I count 7 fishes over 20 kg. One of them weights 29 kg – my new personal best. It was the best Spring I ever had! To all these pictures from different waters in germany and france which you will see in this update, I will tell you something about my fishing style and this difficult period of the year.
Enjoy the pictures and our lifestyle carpfishing!
My second carp at the beginning of february in 2013 and it was over 20 kg! One week ago the weather was really good for fishing and than I heard from a new winterbrake. So I decided to go fishing because I know the carp will feel how the cold weather will come and the Big Ones will eat as per my experience. Than after two nights without a fish I caught this wonderfull big common. It was with the help of IB Carptrack Fish Boilies on the Carp'R'Us Cranked Hook size 6.

In the beginning of April my friend Felix Kaczmarek came to visit me and we fished three nights. It was a hard session because winter weather was still arround us. But we had a lot of fun and good meals as well.

fried meat – I love it!

We did what we could to catch only one fish on these hard conditions.
Hang arround and searching carp. That was our daily work…

Finally we caught a nice mirror with 18 kg.
We took turns in the fight and at the end it was our mirror carp for both of us.

Only one month later at the beginning of may I said good by to the winter. Together with my girlfriend Isabell we went fishing on a very tricky french gravel pit. I used the CRU Cranked Hook size 6. It is a perfect hook for snagfishing and in the snags we found the big carp. For the bait I used on this rig IB Carptrack Worm Up combined with a V-Pop Up.

The first night is coming and on the next morning it was the 1. may day.
My dog Hermann is waiting for a fullrun.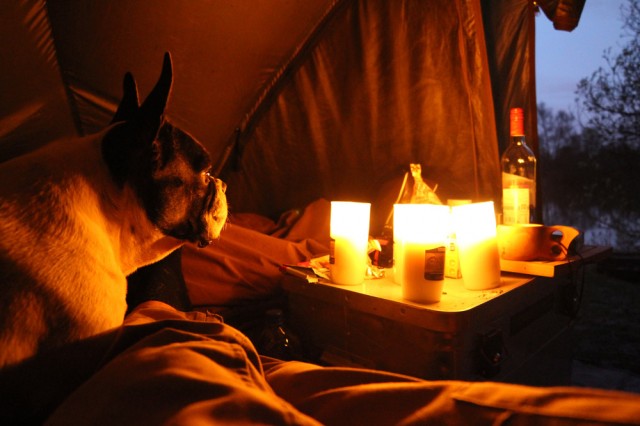 Some Carp'R'Us stuff – I can count on it!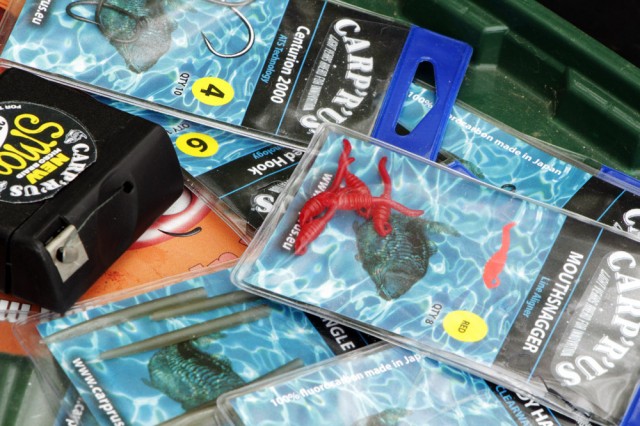 Ready tied rigs for the combi stiff links

The first may fish and it was a 20,5 kg mirror – yeah I was so happy about this baby.
I caught it with Imperial Baits Carptrack Liquid and Powder paste mixed with Carptrack GLM-fullfat and Power Powder Cream – a tip from Tomas Blazek! Thanks mate!

Only a few hours later my girl caught another big common carp full of eggs!

Yes, finally we found the fish!

We always eat very well – get what you give 🙂

Uncle Bait "The Boilie" is my new favorit for short sessions and without feeding a lot.
I caught every carp from the 1. may fish until to the end of this Update with the pink power – Uncle Bait "The Boilie"

This one with 16,5 kg bite at 6 o'clock in the morning and it was a very strong fight

Got that baby!

I switchted to the CRU Continental Snag hook in size 4 and 6 because I was out of stock with cranked hooks. Simple rig with red maggot mouthsnagger and 25 lb smooth braid. It works perfect for me!

Uncle Bait "The Boilie" – pink power!
IF YOU WANT, BUY IT HERE: www.imperial-fishing.com

Here I want to show you all the ingredients which I use for my Carptrack paste. Some call it "Wonderpaste"!
The main components are IB Carptrack Liquid and Powder. For some more special taste I added a little bit of Carptrack GLM-fullfat and Power Powder Cream.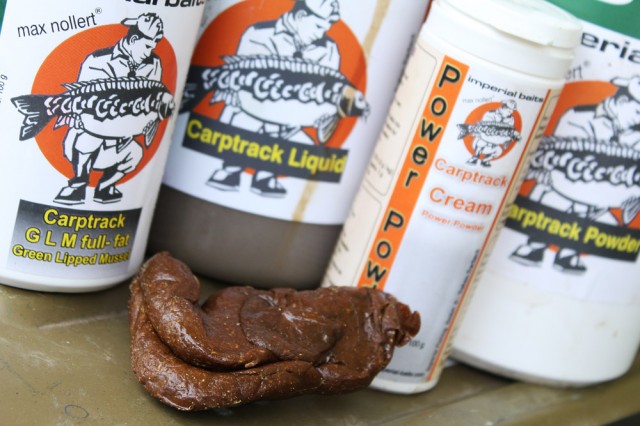 My favorite rod – max nollert temptation MK III.

Isabell the common catcher! Another big one and it was the last carp for this session.

Fly high like a bird!

iBoat chiller – Hermann the german!

Only one weekend later I was fishing another gravel pit in germany. It was Uncle Bait "The Boilie" again and again. Also in this session I caught every fish and 2 carp over 20kg in only one hour. It was absolutly amazing. Thanks god for the strong Carp'R'Us hooks because in this water we had a lot of snag and weed so I had to pull carp very hard. I feeded 5-10 boilies on one square meter!

pink shit…

It was the fourth fish over 20 kg for 2013.
I was not aware what should come …

The spring had already exceeded my expectations and I never caught so many big carp in such a short time.

I don't like the amurs… smelling bad, very slimy and sometimes brake my landing net 😉

BOOM! The Carp'R'Us hooks are strong enough to catch big catfish with it 😉

A primordial animal

Common carp – a nice long one!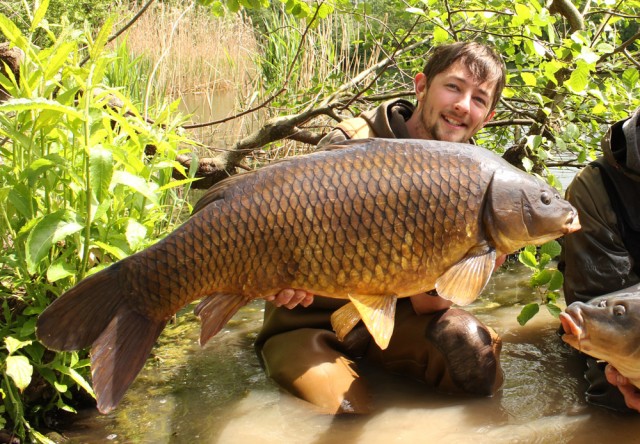 We did an experiment and tried a roach with 2 Gladiator LS size 2 to catch a pike. What should I say? It works perfect and it was not the only one…

So mates we are filming a lot and I think it's time for a new movie?

The next weekend and it was raning 48 hours without a stop. In the morning I caught a very black common carp. I had to go with my clothes in the water, because the fish was in a tree. I got it but I was totally wet. I went in my tent drop off my cloth and than – next FULLRUN! I went out completly naked, jumped in the iBoat and caught an enormous fish. Like Adam I row back to the swim, totally happy, singing and shouting over the lake beacause I knew it will be my personal best!

Max Nollert was quick to take the pictures and celebrate with me!
First, I called Max, I don't forget his promise at the previous afternoon when he visited me on this french lake: "If you get a new PB I will come again to take the pictures!"
And as it should be, a man stands for his words! 2 hours after my big capture Max stood with a delicious bottle Maxhof Riesling Sekt and fitting LOGO glassy in the front of my bivvy…
Time to celebrate:

29 kg POWER!!!!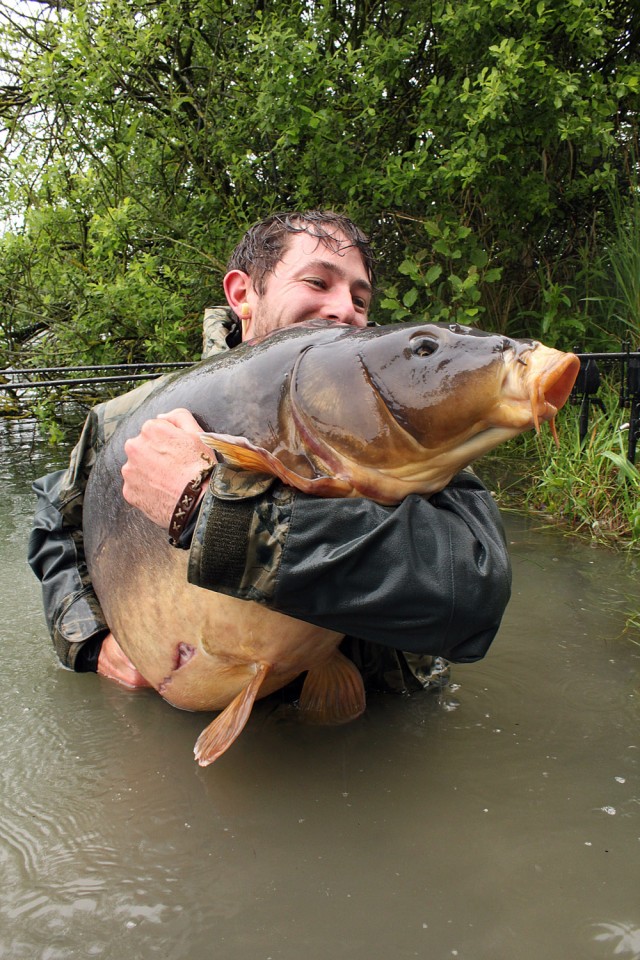 No words only a big smile…

Bait: Uncle Bait "The Boilie" + Uncle Bait "The Amino Gel"

One day before, I save the life from one of the swan chicks.
In the next morning the hole family came to visit me and say: Thank you!

It was one weekend later at 6 o'clock again.
Sunrise and fog on the surface and a big fish on the CRU hook.
Can you have a better start in the day?

Amazing, it was again a carp with 20 kg and it was the one and only fish for this weekend. Caught on Uncle Bait "The Boilie". As usual I fed only 5 – 10 baits arround my hook. It is enough during the difficult springtime. The big carp mothers are very careful!

A new weekend with new tackle! I testes the Led Lenser SEO headlamp range.
It is a strong and very light, modern, technically advanced headlamp.

You also have different modes with redlight. The red light is perceived against white light.
Other anglers or animals can't see you as usual when you wear a white light!

Sitting, waiting, wishing – that's fishing!

No, it is not the well known Rainbowlake!

One day before the sun was shining I placed my rods in flat areas. No fish in the night and than the rain comes again. I reacted immediately and place the rods in depth water between 3-4m. I know the "Bulls" are in deeper water during the rain!

Only 2 hours later I became a fullrun and it was this beautiful common baby on Uncle Bait "The Boilie"!

Some great clothing stuff mates 😉

Here you see my simple rigs. I don't lose a fish with them, I don't lose a fish with them!
Pray and don't lose a fish! 🙂
Carp'R'Us is my favorit Endtackle since 2012 and I tested a lot on the market!

This is my last fish with 16 kg for this Update and I want to say good bye to everyone who enjoyed my springtime update!
See you on the bank mates and hope you caught your dreamfish soon.
Great Stuff like Imperial Baits and Carp'R'Us will help to make your dreams come true…
cheers Julian Jurkewitz


Team Imperial Fishing Germany