25,5 kg Wintergold in Italy – December 2013
from Sergio Ceccarelli
And already, it's appropriate to say they are wrong not proverbs …hardly ever!
The first frosts inexorably cover our tents and everything that surrounds us, like in an enchanted landscape everything is incorporated in glittering ice crystals. Winter has arrived, surely there would be more healthy choice to sit there warm, pampered by our fleece pyjamas, maybe on a comfortable sofa and, why not, with a fireplace and a nice hot chocolate! This is the thought that processes our brain's "healthy"… but the "sick of carp"… we throw down from that comfortable sofa, turn off your fireplace, it closes the door behind him and charge the tackle on the car, eeeee …
A beautiful winter session begins!

No, it's not a dream, but the harsh reality of those now living with this terrible disease!
Haaaa … forgot, know to be hopelessly sick, and I'd fallen into the tunnel, I did, a few days before the session, a couple of few pre-baiting with tiger nuts and Imperial Baits Carptrack Boilies, because I told myself, if I go to abstinence and won't be able to unless you go fishing? At least I have some chance in the most watched… clever user???!!!!!
Just to make things easier, with friend Stefano, we meet in the early afternoon (at 16:00 o'clock is dark!!!), we follow the 120 km that separate us from the Lake and subsequently unloaded the equipment from the car to the boat, we loaded about 15 minutes by boat (we do not miss anything!!!), in all this, accompanied by a pleasant outdoor temperature that grazes the 3 c° …
crazy???? Yes, crazy of carp!

We set up our camp in a hurry, we have one hour of light, and also the temperature continues inexorably to descend, we cast our four rigs, all accompanied by a handful of tiger nuts and about twenty boilies, we fit thermal suits and we take refuge in our tent.
We speak of more and less …. lie …. we speak only of fishing, if we made the right choices and if the night is cold!!! We speak also of the spot that we chose, all a short distance, whereby the rods should be cast and baiting done by hand, we talk about distances and the best are in the order of 40 metres. The rig of the first rod was created with Avid carp Captive 25 lb, which, after having removed four inches around, was tied by a knot snelling (node-to-node without internal thread), CRU ATS Gladiator Hook making a blow out rig, by means of an oval ring of steel 3 mm placed on the same stem and adding a Carp'R'us Mouthsnagger Maggot – red to emphasise the effect line aligner.
The hoolink consists of a single Imperial Baits Carptrack V-Pop orange, with truly exceptional buoyancy and visibility, offset by means of a kwick change and detached about five centimeter from the bottom.
The hookbait is literally lying about twenty meters from the bank, on a bottom ver rich of rocks and submerged roots, at a depth of about six meters, always glad sector scoured from our carps search of food. We use a pop-up, because being the rich bottom of rocks and roots, a booster detached from the bottom will look more visible.
The rig of the second rod was created using Armacore Sufix 832 from 35lb that has been linked by means of a simple node snelling a hook CRU ATS Continental Hook, and measure placed on the stem of a small silicone tube of about 3 mm. The hair trigger a snow man (snow man) composed a boilie Imperial Baits Monster's Paradise Boilies in 24mm and a sinking boilie Imperial Baits Carptrack V-Pop white.
My Rig choice – CRU & Imperial Baits
Together they are even stronger!

Casting by hand about fifteen meters from bank, to deposit my rig to a depth of about seven meters, very strategic point since it dominates a huge step that by nine meters and descends inexorably to 30 with a significant slope. The end of the third rod is made with Fox Coretex from 25 lb, having removed about four inches coating, was tied by a knot snelling a hook Fox series 2XS measure 4, realizing a blow out rig using an oval ring of steel 3 mm on shank.
On the hair rig a single boilie rig sinking 24 Imperial baits Carptrack Fish and throwing the whole thing in about forty metres, on a bathymetric chart of about five metres, characterised by a very clean and flat. The end of the fourth and final rod is made of Jackal Kryston from 30 lb, having removed about four inches coating, has been linked by knot snelling a hook CRU ATS Centurion 2000 Hook, creating a "blow out" rig by means of an oval ring of steel 3 mm placed on the stem.
Two tiger nuts made results pop up by means of a piece of sponge, carefully cut out the Brown float and positioned between the same, all offset by means of a kwick change in order to keep the rig pulled about three centimeter from the bottom. Launch parallel to the bank, at a distance of about forty metres, to a depth of about four metres rich in wood and stones, but far from the same no more than ten meters.
Winterweather…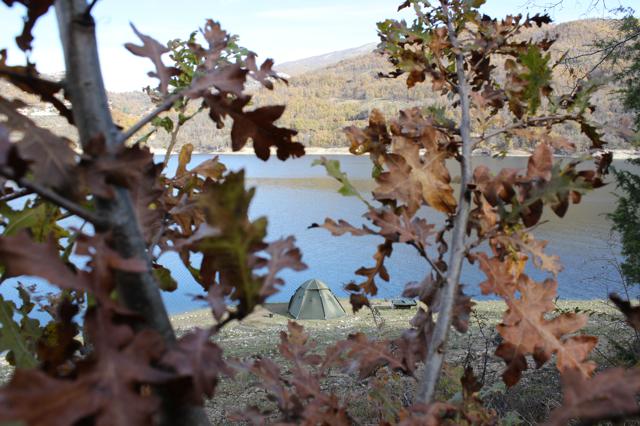 On all rods we have assembled a strong shock nylon leader of 0.60, given the dangerous obstacles present in these environments, and used on two rigs mounted safety clip weights (to lose) from 142, considered the significant risk of running aground. We baiting on each rod using small amounts of tiger nuts and with a boilies Imperial Baits Carptrack Monster's Paradise and Fish because, at this time of year, with these climatic conditions and water temperature of approximately 7°C, is the power that the digestion of our female friends will definitely be minimize so, use large amounts of bait would almost surely counterproductive for catches, compromising irreparably the success of our winter session.
So between a chat and the other, we begin to feel a slight peckish, the time has come to prepare anything for dinner, which will be based on excellent grilled meat, cooked as usual and masterful manner by friend Stephen and accompanied by a glass of local Red wine. Finish this, sacred and indispensable for us now, we go out of our tent, and remain speechless for a few minutes…
Their eyes were watching the skyline, kidnapped by a magnificent sky studded with a myriad of stars, sensations and emotions are absolutely unique and unforgettable.

Back to reality we decide to try to capture this spectacle of nature, carrying out some pictures at night with my reflex cameras positioned on a tripod: imposed the machine, I make some shots, but then … beep …bip, the controller of my gardner atts mi report activity on first hookbait, but I don't even have time to think of anything but … biiiiiiiiiiiiiiiiiiiiiiiiiiiiiiiiiii …., in two seconds I'm on the rod, was there to ten metres, while Stefano runs to retrieve the net, Bruce Whalker & from 12 "2 lb creaks (sublime feeling), I close the old clutch and tireless daiwa s5000t, and after a few minutes of quiet fight ends in a magnificent golden landing net common Queen.
Gently lay carefully on the comfortable mat, gladiator has completed his great work, the fish is hooked impeccably, quick weighing operation, the balance stops at 12kg … exact, we use a large carp sack to reassure and retain our friend until tomorrow to make some photos (I open this little digression to remind everyone to use carp sack for a reasonably short time, with the recommendation to place within the same with our beloved award, water of adequate depth, possibly clear of obstacles, so as to safeguard the most of the good state of health).
Our stuff for success!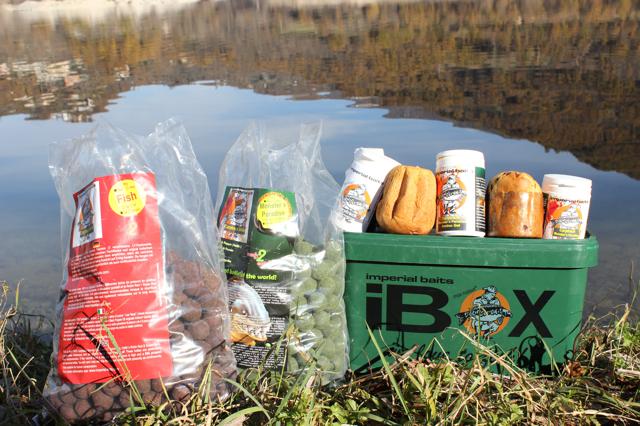 Stefano raises the trigger precisely in the same place and I bait over ten boilies Carptrack Fish, reposition the rod on the picket lines and decide unanimously to get into in our warm sleeping bags, yes, because between photos, start, combat and the rest, we realized that we were out there with a nice temperature of -3 ° C and that everything around us was covered with a thin film crystalline…
In other words… brrrrrrrrrrr … that was so cold!!!

But this is also the beauty of carpfishing, in all conditions, day or night, with -10 °c to +40 °c , when the sound of the alarm bite invades our eardrum, the rest does not matter, we are caught as by singing of a mermaid from this electronic sound, which that make us lose head and for a few moments that isolates us totally by what surrounds us, and our only thought is to take it at any cost that rod, feel a strong pull on the other side of the line, the clutch squeaking, the adrenaline that goes up when you are going to glimpse the outline of the fish …….. and then … nothing else matters!!!
The night is quiet, in early morning wear our thermal second skin and we leave our brollies, everything around us is frozen and covered with fine crystals, we take a good coffee', we enjoy a couple of snacks and in the meantime a warm sun warms us just by looking at… a new, and hopefully lucky day begins!!!

With care, we extract from the carp sack our queen, and soon we note with pleasure that within our friend has left many fragments of tiger nuts which had evidently enjoyed the night before: some souvenir photos, a bit of pampering and free the fish back in its environment … the greatest award for him … and for us!!!

11.30, the snow man with Monster's Paradise is sucked, and the second rod we have a burning start which try hard our reel. I'm close even this time, so much so that I hear before the screeching of the clutch then the sound of the alarm bite (what a wonderful thing). I raise the rod without pull, the fish take line inexorably and swims towards the bottom of the lake, and soon she gets to thirty feet deep: she looks like a crazy locomotive! 🙂
The Bruce & Walker creaks nicely…
Imperial Legend Carp is coming soon!

…and after the first violent escape, the fish slows down and begins to pull in slowly but continuously, but it seems she doesn't care about it; by this behavior, I realize that the carp size is considerable, and I decided to let her do what she wants calibrating properly the clutch. In the meantime I tell Stefano to be patience because we have to wait that our friend go up and let her see. After thirty minutes of push and pull,
we can see an imposing golden outline in the crystal clear water of the lake, Stefano doesn't fail using the landing net and she gets ours…
"Sergio! Help me! I can't pull up the landing net, maybe it's entangled"
…Stefano is exhausted from combat and I decided to go to help him …but the net was not entangled: it was just that there was an huge, heavy and large queen.
Both close and get up the landing net, placing all in the mat, and opening we remain breathless looking at that amazing fish. We hugged and shook hands to congratulate, pervaded by immense happiness for the beautiful capture, especially in this difficult weather conditions!
After due calibration of the weight sling, we accommodate our friend, hooked to the balance that marks 25.5 kg…

Fantastic Monster's Paradise always ready to make gifts… a wonderful gifts … Christmas time is soon but we did not expect so much …Thank you Santa "MaxClaus"!

Photos in the water, Stefano has also make me a video underwater: they will be truly unforgettable memories, a bit of pampering for her and she back to a placid swim in the lake clear water, but very slowly and stopping for a moment, like to say "thank you" … maybe I speak as a sick for carp … anyway even if it's absurd I really like to think that … otherwise what chronically ill I am???

Rods return in their position and we bait with bit of tiger nuts and twenty Monster's Paradise Boilies broken in half, then, super excited for the capture we note that is lunch time, so we enjoy 400g of italian "rigatoni alla carbonara" along with a logically iced beer :-), coffee in total relaxation and mega chat about what was happening until now.
We decide not to replace the hookbait of the rod that have not made anything up to now, also to avoid alerting any carps in the area ……….. You can not always tell if the choices we make have sense or not, but always after that we made , there remain doubts to say … but if we had done differently ? ? ? But this is another story …. The fact is that throughout the afternoon and the following night we slept soundly, not having eaten , while the umpteenth and final start of the session we had the following morning , casually at 11.30 am, on the single 24mm sinking Carptrack Fish only regret … that, even in this case, I pull and I completed the fight alone because my friend Stephen was engaged in business much more compelling and justified ….. Seriously, I'm really sorry of this, because even when I go fishing with my friends, it does not matter what or who have running, the important thing is you have done everything together and in the best way, then the result and the victory belongs to everyone, as well as the merits and photos will all remember! However, for the record 16kg of magnificent common carp have enriched our last day of fishing and our album, in this beautiful and difficult lake in central Italy …. and once again I have to say, that nothing is impossible .. but … you have to try and be there forever!

A special thanks goes to my dear friend Stefano for the good company and patience, but most goes to the excellent Imperial Baits Boilies Carptrack Range, which proved to be definitely lived up to and beyond any wildest expectation, given the delicate and difficult weather conditions… thank you frozen December…
…thanks Imperial Baits!


Sergio Ceccarelli