Das neue Black Cat Cave 2.0 Bootszelt ist ab sofort in Verbindung mit dem iBoat 500 Max Comfort Integrale PLUS lieferbar!
… zum absoluten Vorteilspreis!
Die wichtigsten Merkmale des Black Cat Cave 2.0:
– geeignet für Schlauchboote oder Festrumpfboote (siehe Foto unten)
– Länge: 335 cm, Breite: 220 cm, Höhe: 105 cm, Gewicht: 7,3 kg
– Wassersäule: 5000 mm, Innenzelt zur Vermeidung von Kondensat
– für Bootsbreiten von 1,85 m bis 2,20 m
– Bezugsmaterial: 100% Polyurethan
ACHTUNG: bei dem iBoat 500 sind alle Befestigungspunkte (schwarze Ösen) perfekt auf das Black Cat Cave 2.0 Bootszelt angepasst!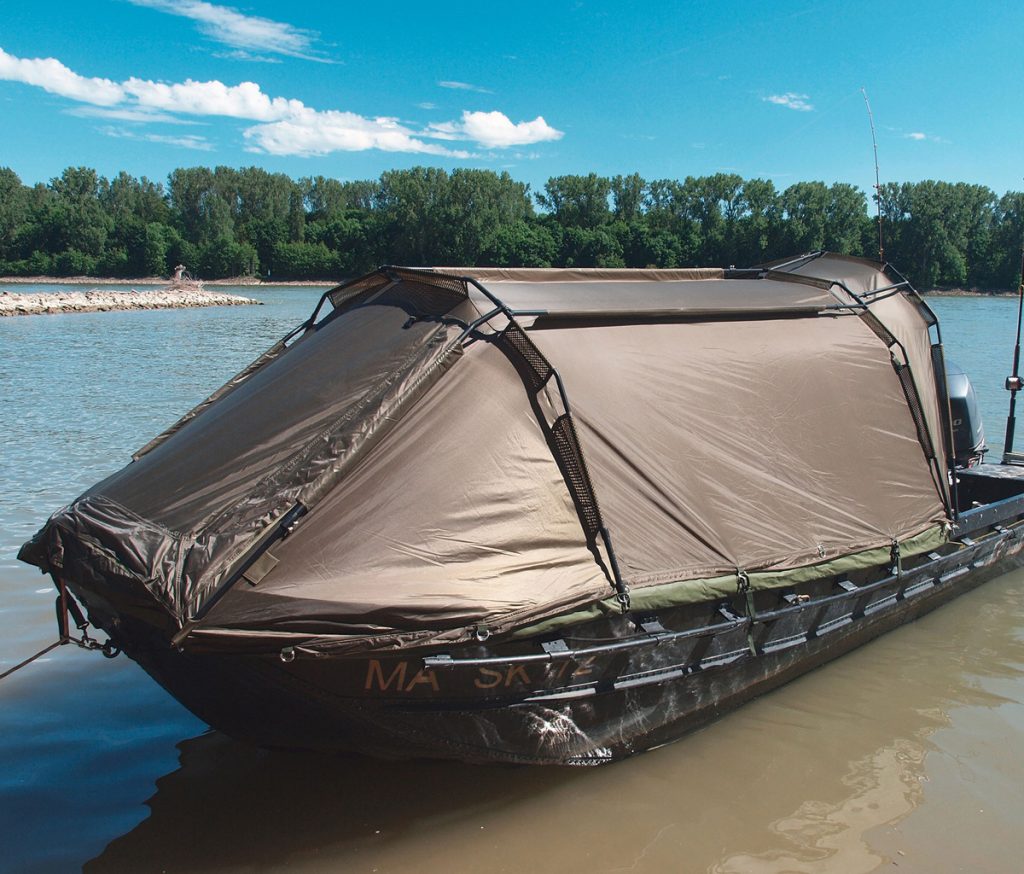 Das
iBoat 500
auf diesem Bild noch mit der ersten Version des Black Cat Cave, auf der Carp EXPO Berlin!
Produktbeschreibung: Das Black Cat Cave 2.0 hat im Vergleich zum Vorgängermodell ein eingehängtes Innenzelt zur Vermeidung von Kondenswasser. Das Material ist robuster und hat nun eine Wassersäule von 5.000 mm. Die Eingangstür ist mittig geteilte und reicht bis auf den Boden. So ist auch der Innenbereich bei ungünstigen Windverhältnissen extrem gut geschützt. Mittels der innenseitig angeordneten Klettverschlusstaschen, kann die Tür im unteren Bereich zusätzlich beschwert werden (z.B. mit Bleigewichten), um bei Wind nicht unkontrolliert zu flattern.
Große Klarsichtfenster ermöglichen den Blick nach draußen. Optional kann die regensichere Front gegen ein Moskitonetz getauscht werden, das in lauen Sommernächten Schutz vor Insekten bietet. Das teilbare Gestängeg sorgt für ein kleines Transportmaß und einen leichten Aufbau inklusive Wickeltasche zum schnellen Verstauen des Zeltes. Die drei Frame Supports, die das Boat Cave in Sturm und während der Fahrt stabilisieren, wurden durch zwei weitere im Bereich der Bug-Tür ergänzt.
Dadurch wurde die Stabilität erhöht, sodass man sich auch mit einer sehr hohen Geschwindigkeit auf dem Wasser fortbewegen kann. Die Bug-Tür, die um ein umlaufendes Klettband für eine sehr gute Regendichtigkeit ergänzt wurde, ermöglicht zudem das Ein- und Aussteigen sowie das Ankern.
Der dritte Bogen kann bei Bedarf mittels kleiner Teleskop-Stangen zusätzlich abgespreizt werden und bietet als Vorzelt nochmals ca. 30cm zusätzlichen Schutz im Innenraum. Dank der individuellen Befestigungspunkte in Form von D-Rinen lässt sich das Bootszelt sowohl in seiner Grundlänge von 3,60m als auch in der verkürzten Version von 3,30m auf vielen gängigen Bootstypen sicher befestigen.
ACHTUNG: bei dem iBoat 500 sind alle Befestigungspunkte (schwarze Ösen) perfekt auf das Black Cat Cave 2.0 Bootszelt angepasst!
Bei der verkürzten Version wird der vordere, teleskopische Zeltbogen um ca.15cm abgesenkt. Das Boat Cave 2.0 kann auf Schlauch- oder Festrumpfbooten zwischen 1,85m und 2,20m Breite aufgebaut werden.
---
Das neue iBoat 500 – Max Comfort / Integrale / PLUS – the new dimension for boatfishing!
Es ist ein besonderes Gefühl von Freiheit, als Kapitän sein eigenes Boot zu steuern. Das wir dieses gute Gefühl noch zusätzlich mit einem echten Angelabenteuer kombinieren können macht das Glück gleich doppelt so groß.

Das stationäre Bootsangeln ändert Deine Angelei grundlegend.
Max Nollert war der Pionier der stationären Bootsangelei auf Karpfen, ab Mitte der 90er. Bis 2003 schrieb er zahlreiche Artikel für sämtliche europäische Fachmagazine. Ähnlich wie bei der Einfürung des GPS (Carp GPS) durch Max in der Karpfenangelei ab 2002, waren auch beim stationären Bootsangeln erst Mal viele skeptisch und Max konnte die Vorteile in sehr vielen Situationen Jahrelang ausspielen. Wer wagt gewinnt!  Doch nach einigen Jahren war auch den letzten klar, dass man nicht mehr dran vorbei kommt, das Boot als fängige Alternative in sein Programm aufzunehmen. Viele folgten Max, lernten die unschätzbaren Vorteile kennen und berichteten ihrerseits in zahlreichen Artikeln darüber. To be continue….
Hier wenige Beispiele, da es hier ansonsten den Rahmen sprengen würde:
Bootsangeln am Lac de Liez

Und jeder merkte, Dein Denken über Hot Spots wird sich ändern. Mit einem Boot bist Du frei und kannst an Plätzen angeln, die möglicherweise noch nie befischt worden sind. Du bist ganz nah am Fisch und wenn sie einmal nicht da sind: Anker hoch, Ruten rein und auf zum nächsten Hot Spot, die Karpfen sind schon da!
1998 – 4800 Hektar See Lac du Der – Der Sturm war vorbei, wir noch am leben und machten weiter – krasse Nummer! Otto Staab war mit on board!
Wer sich näher für die Vergangenheit interessiert: Max Nollert's Schlauchboot Ära, since 1996 – das Video! (iBoats, Allroundmarin, Metzeler)
Neugierig geworden?
Stationär vom Boot aus zu angeln, machen aber nach wie vor die Wenigsten. Warum? Bisher war die Anschaffung eines geeigneten Bootes mit Hindernissen verbunden. Ein GFK oder Aluboot ist kostspielig. Hinzu kommt ein Bootstrailer und ein Unterstellplatz sowie ggf. ein Anhängerführerschein, den man für ein Festrumpfboot benötigt. Nicht aber für das iBaot 500 Max Comfort Integrale!

Werde zum Kapitän!
Mit dem neuen iBoat 500 haben wir eine kostengünstige Alternative auf den Markt gebracht, um Dir den Einstieg zum stationären Bootsangeln so einfach wie nur möglich zu gestalten – und das auf ganzen 11m²! Das Basismodell liegt bei 2490 Euro und schon kann es losgehen. Wer dazu das ausgeklügelte Liegesystem wählt liegt bei 2750 € und sollte es gleich ohne Wenn und Aber in die Komplettausstattung gehen, zahlt man 2999 Euro und hat das passende Bootszelt (Black Cat Cave 2.0) inkl. des doppelten Bettensystem dabei.
Kein Trailer notwendig, kein Unterstellplatz und kein Anhängerführerschein!
Das Boot mit satten 11m² Angelfläche, lässt sich kompakt zusammenrollen und somit im Gegensatz zu GFK oder Alubooten sehr platzsparend lagern / transportieren.
---
Alfarofia Pascoa – Portugal – from Antonio F. L. Nunes
Hello Max,
my fishing trip on the easter weekend was very hard! Previous two anglers in the post have blanked! My partner also blanked, not even a single beep! And I whit Imperial Baits caught two carp 🙂
I have more confidence and more hope in the future to get the big ones out! I Love your Liquid-Powder Paste! Together with the Crawfish Boilies, it gaves me two fish and three more bites!
Just finish a PDF file in portuguese language. You can see here: https://issuu.com/imperial-baits/docs/003_alfarofia_mar_o_2018
iB Carptrack Amino Pellets in 4mm
iB Carptrack inLiquid to pimp your baits!
iB Carptrack GLM full-fat
iB Carptrack Liquid-Powder Paste & V-Pops
😉
Fishing makes me happy
The start
It was a very tricky time to fish, no one got a carp except me and that even twice 😉
Hello number two
iB Carptrack CRAWFISH black & white Boilies

Carp love iB Carptrack Liquid Amino
Always on board, iB Carptrack Birdfood Banana Boilies, Dip, Gel & Power Powder
If nothing helps this is what it needs, iB Carptrack Liquid-Powder Paste
Tight Lines!
Antonio F. L. Nunes
Imperial Baits Team Portugal – have a look at https://imperial-baits.pt
---