First of all, I have to express my very big thanks to Imperial Baits, a brand of high quality, known by so many carpanglers all over europe, for the trust and giving me the opportunity to fish with their baits and become a part of the fantastic and strong Imperial Baits Team Spain!

I am a guy which is total in love with the passion carpfishing and I never loose a weekend where I don't go fishing. If it is cold or hot weather, even when our friends are spawning… it doesn't matter and from these facts, the following lines were born.
The Power of Imperial Baits!

A few weeks ago I decided to make a session on a medium size water, where all the carp were spawning. I tested if I can catch them with Uncle Bait "The Boilie".
Everybody knows when fish are spawning, they are too busy to give any attention to our baits. It's time to choose a good quality bait to encourage them to take a snack and become new energy for their life circle during the spawning time.
The beauty!

I have to tell that this bait smells very good, the colour is very flashy and they are totaly sweet with a creamy, milky, fruity taste. The aroma remember me on strawberry ice cream or yogurt.
I Love Imperial Baits…

…and the carp are loving it too! 🙂

This boilie contens eggalbumin and milk ingredients. The backbone is very stable, so it resists crayfish and whitefish attacks much longer than other boilies. They are 100% round like all other Imperial Baits Boilies and that is a pleasure for the throwing stick.
Common power!

Another beautiful fish during the spawning session!

At first when I go to my fishing place where I'll spend the next 48 hours, I began to bait three Hot Spots. I´m just feeding with boilies, no seeds and no groundbait. PVA mesh with crushed Uncle Bait "The Boilie" and a "snowman" presentation (one 16 mm bottom bait & 16 mm pop up) is my weapon for this session. The Hot Spot is located 34 meters far from the shore and 1.5 meter deep. I throw thirty 20 mm boilies per rod. I like feeding with larger baits and use smaller ones as my hookbait, hoping that our friends will take it more securely!
And they take it!

The response to these baits was quickly and 2 hours after I cast the rods out, I had the first bite. After each carp I throw 10 more boilies in 20 mm to the spot to keep the fish on my chosen spot. The bites didn´t stop all the day and with them my joy and fun got bigger and bigger 🙂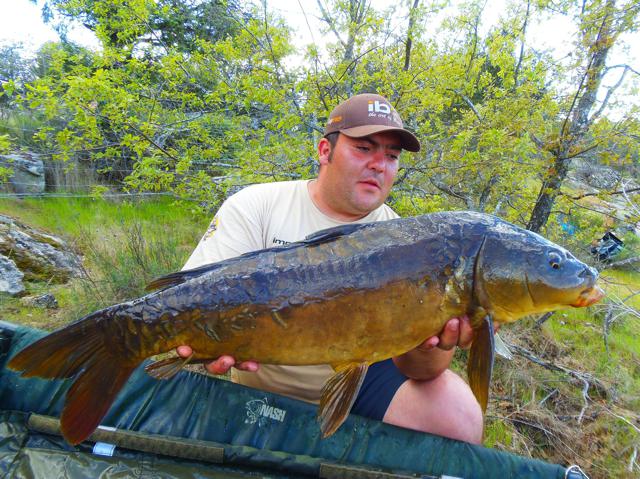 And I get one after an other!

The carp were jumping out of the water and swim crazy and fast through the spawning area. But thanks to the boilies I got them out!

The test with these boilies in a difficult fishing situation was more than successful. I will continue using them in this spring and summer in order they bring me more great sessions. I invite all of you to try them and I'm sure they will give you the result you are searching for… A LOT OF CARP!
Greetings and tight lines to everybody!


Thanks a lot to my good fishing friends, José Sánchez Ortega and David Báñez Roldan, without them this legendary session hadn´t been possible!
Borja Lucas "Demitical"
Team Imperial Fishing Spain
—————————————————————————————————————————————————————————
IB Uncle Bait "The Boilie" – Catch fish like crazy!
GET IT HERE: https://www.imperial-fishing.de/index.php?page=product&info=9528
Visited 1 times, 1 visit(s) today