We say: Thank you Wien/Vösendorf!
Great public, gorgeous atmosphere and good organisation – we will come back
…next year 🙂
A super exposition is lying behind us and with this retrospection we will review the last weekend for all participants but also for all those who could not take part in this wonderful exposition.
Already next weekend our 42m² big trade fair stand will be ready for you in Sinsheim.
We are pleased about the CARP GERMANY 2013!
first drop-in-centre – the IB Carptrack Baitkiosk!
Here you can sniff, taste, try and many useful tips and tricks all around the carp bait theme are picked up.

The core of the Baitarea: the big Imperial Baits illuminated logo
Right picture – The barnburner rod offer "GET TWO FOR ONE"! Two rods for the price of one!

Max Nollert within the range of the "Stinker": Here were the Carptrack Ranges such as Monster-Liver, Fish, Elite, Monster's Paradise and Worm Up to touch, smell and who wanted to could even taste!
Right picture: Gratis sticker are available all around the stand in 10 different sorts!

The large Carptrack Range: Amino Dips & Gele, Flavour, Pop Ups, Boilies, Mixes and a large diversity of the, for us so important, Carptrack Additives. On our expositions we invite everybody to scrutinize our products closely and to drill us with questions about their application.

The newest Stinkers: Worm Up and Monster's Paradise!
On this picture you see the appropriate Carptrack Amino Dips to the two ranges – which one might stink more?

Stefan Istas assumes also in Sinsheim the right side of the Baitkiosk!
Here he presents the "Yummys", which means the sweet and tasty baits.
There everybody wants to bite off!

The sweet and fruity Carptrack Flavour drive you out of your mind!

"…Delicate touch – here, smell too!"

Our newest man: Frank Heller! He represents our yummy Uncle Bait "The Boilie" and the new Pop Ups such as Amino Dip und Gel. Alas sold out on Saturday afternoon, but in Sinsheim we take the double amount with us!

Give me 4 Box😉
"Give me 4" = catch more fishes!

Jan Dadak and Julian Jurkewitz counsel around the themes rigs, montages, obstacle fishing and eating habits of carp. Here you could for the first time by the new Carp`RÙs products: Titanium Scissors, Tungsten Putty, Rig Rings and much more…

Julian Jurkewitz in SELLINGACTION!
The premium Carp'R'Us Endtackle is in great demand…

Jan Dadak during the presentation of Carp'R'Us

Heinz Windeck and Renate in the tacklearea
Here you find the super DVD offers, the strong lines, the complete Tackle² catch series, the sought Boilieguns and Roller such as so much more!

Renate cuts a fine figure!

TOPSELLER in the tackle area:
For all boilie producer the ultimate gun – Boilie Gun "New Generation"!

THANK YOU therefore!

Renate counsels at the line selling!
Also here we have "tied" nice exposition offers for you:
EXPO OFFER: Visible / Invisible Touch 0,17 mm
EXPO OFFER: Visible / Invisible Touch Snaggy Water 0,30 mm
Ask also after the new line flyer including a gratis line sample!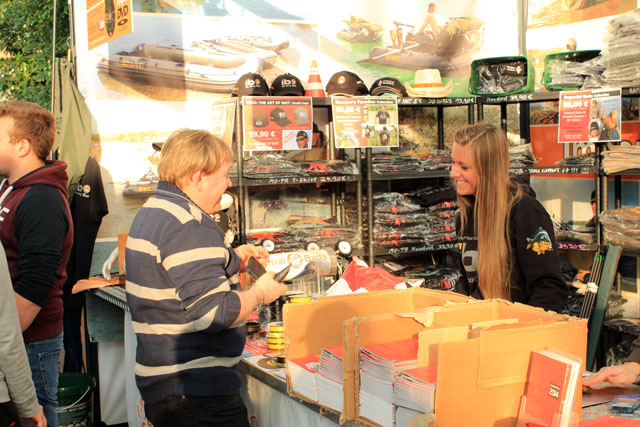 Offer and information to the Invisible / Visible Touch
Extraordinaire braided line!
Here you find the products in the onlineshop:
Visible Touch – Extraordinaire braided line (Colour: yellow)
Invisible Touch – Extraordinaire braided line (Colour: grey)
SHOCK IT – strongest monofile Shockleader
—————————————————————————————————————————————————–
Peter Jorg our jumper, kneads the well-known Carptrack Liquid / Powder Paste.
Right picture: Peter with lucky iBox customers!
We sell the iBoxen for special exposition prices, take pot lucky!

Picture left: Hot stuff that iBoxen is fast exhausted – Peter distributes!
Right picture: Luka Blazic and Jan Federmann demonstrate PIMP MY BAIT.
Pimped Boilies catch more, all users have proved this during all this years 100.000 times!

Stefan Istas: "Sell means sell!"

Team Imperial Fishing
—————————————————————————————————————————————————–
Exposition offers 13/14 – also online available!
The new exposition flyer as online catalogue to leaf through. Available Here!
Visited 1 times, 1 visit(s) today