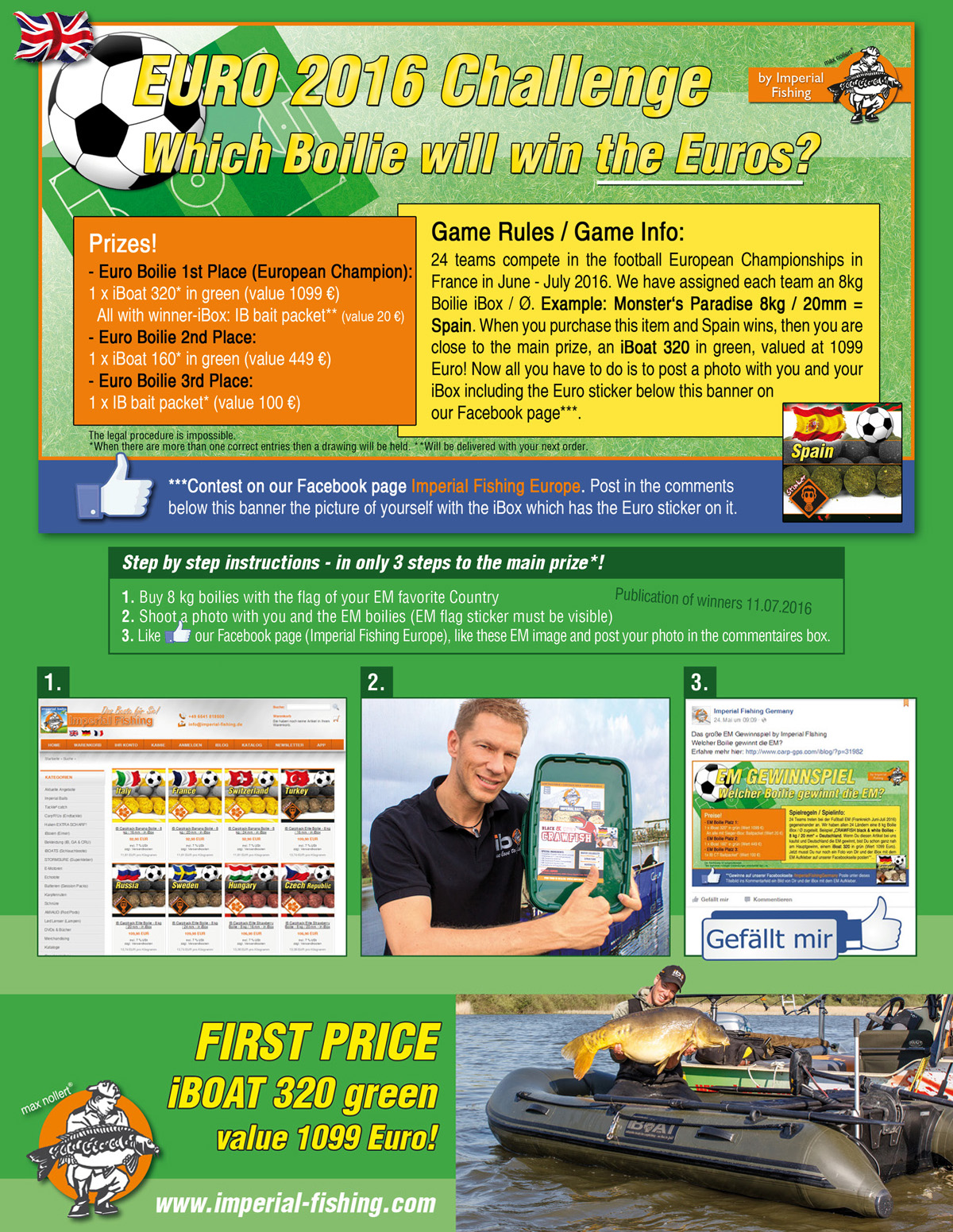 EN – English:
On 10.06.2016 starts the EM and we have devised a special EM raffle for you.
Participation is very simple!
For questions gladly mail to: info@imperial-fishing.de
Good luck!
click to enlarge

FR – Français:
Le 10.06.2016 commence l'EM et nous avons mis au point une tombola spéciale EM pour vous.
La participation est très simple!
Pour des questions avec plaisir mail à: info@imperial-fishing.de
Bonne chance!
Cliquez pour agrandir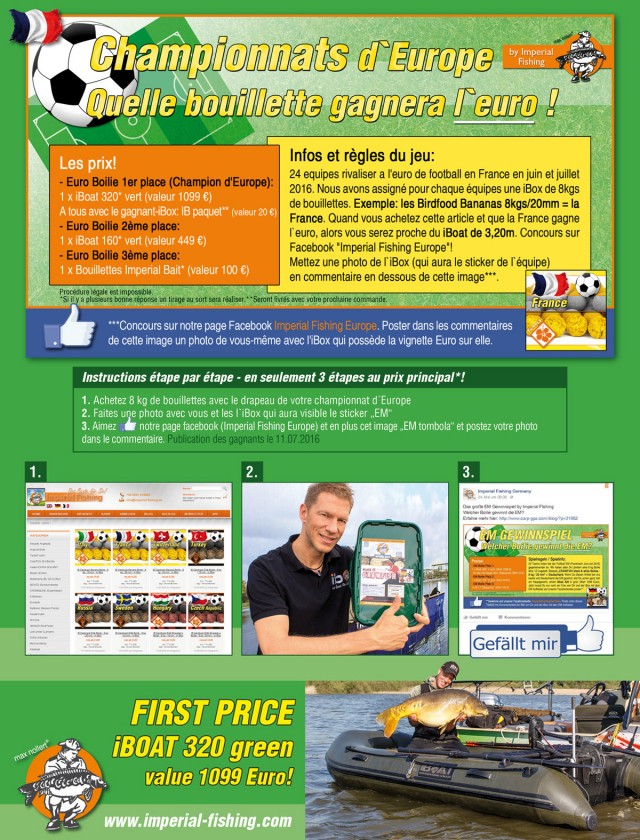 DE – Deutsch:
Am 10.06.2016 startet die EM und passend dazu haben wir uns ein ganz besonderes EM Gewinnspiel für Euch ausgedacht.
Die Teilnahme ist sehr einfach!
Bei Fragen gerne eine Mail an: info@imperial-fishing.de senden.
Viel Erfolg!
DEUTSCHLAND =
IB Carptrack CRAWFISH black & white Boilies – 8 kg / 20 mm – in iBox
SHOP DE – SHOP EN – SHOP FR

klicken zum vergrößern

HAUPTGEWINN / FIRST PRICE / PREMIER PRIX
The FIRST PRICE is the iBoat 320 GEN4 in green (value 1099 Euro!)

Auflistung der EM Boilies / Listing of EM boilies /
Liste des bouillettes EM
IB Carptrack Monster's Paradise Boilie – 8 kg / 16 mm – in iBox
IB Carptrack Monster's Paradise Boilie – 8 kg / 20 mm – in iBox
IB Carptrack Monster's Paradise Boilie – 8 kg / 24 mm – in iBox
IB Carptrack Banana Boilie – 8 kg / 16 mm – in iBox
IB Carptrack Banana Boilie – 8 kg / 20 mm – in iBox
IB Carptrack Banana Boilie – 8 kg / 24 mm – in iBox
IB Carptrack CRAWFISH black & white Boilies – 8 kg / 16 mm – in iBox
IB Carptrack CRAWFISH black & white Boilies – 8 kg / 20 mm – in iBox
IB Carptrack CRAWFISH black & white Boilies – 8 kg / 24 mm – in iBox
IB Carptrack Elite Strawberry Boilie – 8 kg / 16 mm – in iBox


IB Carptrack Elite Strawberry Boilie – 8 kg / 20 mm – in iBox
IB Carptrack Elite Strawberry Boilie – 8 kg / 24 mm – in iBox
IB Carptrack Elite Boilie – 8 kg / 16 mm – in iBox
IB Carptrack Elite Boilie – 8 kg / 20 mm – in iBox
IB Carptrack Elite Boilie – 8 kg / 24 mm – in iBox
IB Carptrack Fish Boilie – 8 kg / 16 mm – in iBox
IB Carptrack Fish Boilie – 8 kg / 20 mm – in iBox
IB Carptrack Fish Boilie – 8 kg / 24 mm – in iBox
IB Carptrack Monster-Liver Boilie – 8 kg / 16 mm – in iBox
IB Carptrack Monster-Liver Boilie – 8 kg / 20 mm – in iBox
IB Carptrack Monster-Liver Boilie – 8 kg / 24 mm – in iBox
IB Carptrack Osmotic Oriental Spice Boilie – 8 kg / 16 mm
IB Carptrack Osmotic Oriental Spice Boilie – 8 kg / 20 mm
IB Carptrack Osmotic Oriental Spice Boilie – 8 kg / 24 mm
Visited 1 times, 1 visit(s) today